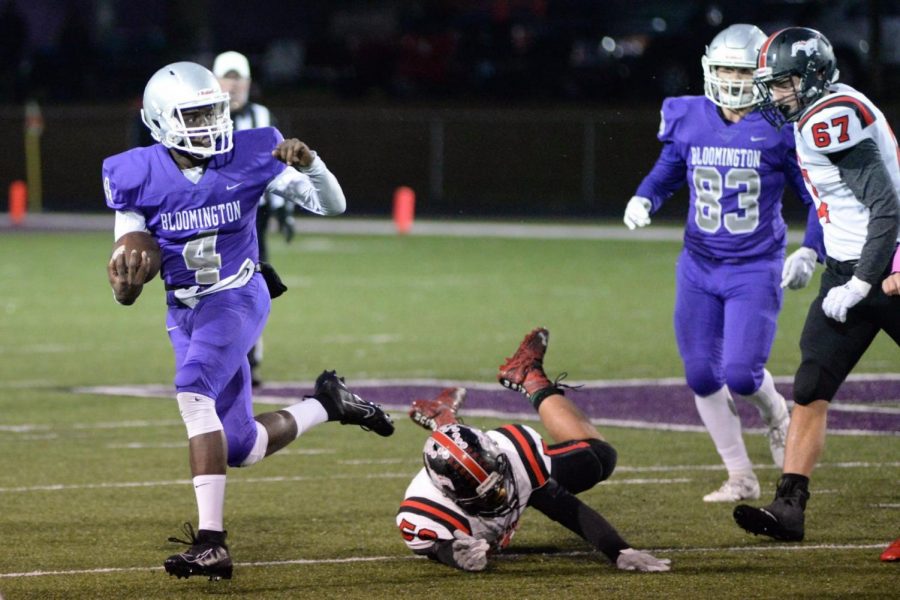 Paul Pedersen
Evansville North Huskies (5-4) at Bloomington South Panthers (5-4)
When: Friday, Nov. 1, 7:30 p.m.
Where: Fred Huff Field
Last Meeting: 28-15 (W) 1992
Bloomington South will face Evansville North at home to kick off sectionals. The Huskies come into Bloomington with their best record since 2012. 
Offense: In their season finale, the Panther offense struggled against 3A powerhouse Bishop Chatard. Luckily for South, Evansville North isn't quite as dominant defensively, allowing 28 points per contest in a fairly weak conference. Last week's BYE gave the Panther offense some time to work out the kinks in the passing game. 
"It's nice being in a sectional where we get a week off," said offensive coordinator Anthony Lindsey. "It gives us more time to make corrections and it gives the players some time to rest."
The 4-2-5 defense is highlighted up front by junior Gage Sales. Other notable defensive players include senior linebackers Tyler Gilman and Tanner Jackson. Senior running back Maveric Thiery should be well rested and have a big game in this favorable matchup. A big game on offense is essential for the Panthers as they'll likely have to face the high powered offense of Bloomington North next week, should they win. 
Defense: The Panther defense had their worst game of the season against Bishop Chatard, allowing 42 points. This is somewhat excusable, as Chatard has one of the most prolific offenses in the state. The biggest task this week will be stopping senior running back Dylan McKinney. McKinney is a threat both on the ground and in the air, averaging 8.2 yards per carry with 17 total touchdowns, 9 of which were receiving touchdowns. Under center is sophomore Ethan Brawdy. Brawdy is a tough quarterback with a big arm that can move out of the pocket and make plays. He has been solid this season throwing for 175 yards per game, 13 touchdowns, and 6 interceptions. He also rushed for another 7 touchdowns. His biggest issues come when facing a good pass rush, as he tends to make very inaccurate throws. If linebackers Ethan Hensley and Joe Stephens can get after the quarterback early and often, South should have a lot of defensive success in this game. 
Overview: This is an exciting matchup that hasn't happened in 25 plus years. As long as South doesn't come out flat and sloppy, this is certainly a winnable game. The winner of this game will be on the road next week, either facing Bloomington North or Castle. Prediction: BHSS- 27 ENHS-17