Morgenstern Books returns to Bloomington after 25 years
Rejoice, bookworm Bloomingtonians! Morgenstern Books is coming back to Bloomington.
Those who remember Bloomington in the '90s might remember the Eastside bookstore — opened in 1990 in Eastland Plaza and closed in 1996, it was a beloved Bloomington institution. That is, until the corporate big dogs moved into town. "[Morgenstern Books] was very successful, until Barnes and Noble and Borders opened stores right next door", said Mitch Teplitsky, Morgenstern Books' PR officer. Within a few months, Morgenstern's had to close.
The Bloomington Barnes and Noble that pushed out Morgenstern Books lasted for almost 25 years. During that time, founder and co-owner Rick Morgenstern launched a residential remodeling business, read extensively, and wrote The Male Manifesto, a guide for young men, while waiting for the chance to bring back local bookselling to Bloomington. That chance came in late 2018, when Barnes and Nobles announced that they were shutting down their Bloomington location. Morgenstern, with the support of community members, made the jump to bring the store back.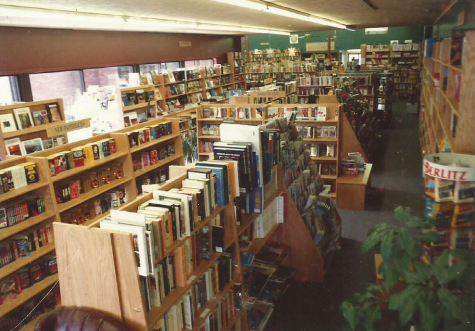 Morgenstern came to Bloomington in 1978 for college, where he was introduced to the bookselling scene while working in the T.I.S. College Bookstore. He worked there for twelve years, eventually opening their general book department and becoming a manager. "I noticed there was a pent-up demand
[for a comprehensive bookstore]", said Morgenstern. "There were mom-and-pop stores, and the college bookstore, but no real comprehensive bookstore in Bloomington… I began to dream of opening one around 1985, and soon was dreaming about it all the time." After a five-year process, and the support of local investors, the original Morgenstern Books was opened in 1990.
Flash forward to December of 2018, when Barnes and Noble left Bloomington. Morgenstern was ready to return to what Teplitsky describes as Morgenstern's "real calling and passion": supporting the community through independent bookselling. He put out a letter in the Herald Times, looking to gauge people's interest — would they support Morgenstern Books' return? "Hundreds of people responded," said Teplitsky. Emails, phone calls, responses in the paper, all confirming that Bloomington was more than ready for local books to come back.
The overwhelming response was all Morgenstern needed to begin putting together what he needed to open the bookstore back up. After a few years, almost everything was ready, save for a few investors. 
Then, the pandemic hit. Opening was pushed back, and everything was put on pause. However, Covid pushing back Morgenstern's plans ended up having a silver lining. "This was a blessing in disguise," said Morgenstern. "I had originally wanted to get the store open in 2019. I had a couple of investors, but not enough." Then, in August of 2020, Morgenstern's lead investor and now co-owner, a local Bloomington neurosurgeon named Todd Eads, came on board with the business after reading about Morgenstern's plans in the Herald Times. Eads' financial support was the real turning point in Morgenstern's plan to open back up. "So looking back, that would have been potentially disastrous if we had opened before the pandemic," said Morgenstern. 
Morgenstern Books is currently operating an online store, MorgensternBooks.com, which has helped fund the efforts to get the brick and mortar store opened up. Located in the College Mall area, in the site of the previous Pier One building, the store is set to open in late spring.
Morgenstern has big plans for the store — with 9,000 square feet, the store will have space for a café serving local foods, like Brown Country Coffee and Scholars Inn Bakehouse goods, as well as a large children's department, an event space for live music and author readings, and sections for local writers and artisans. Morgenstern hopes this can be a space for the Bloomington community to gather and appreciate books, as well as enjoy local goods and events together. "Bloomington doesn't have enough places where families can gather for wholesome entertainment," said Morgenstern. 
"It's very much about bringing back that ethos of the independent, local bookstore… supporting and partnering with local writers, artists, and businesses," said Teplitsky. For too long, there has been a local-bookstore-sized hole in the heart of Bloomington. With Morgenstern Books' reopening, we're finally getting that back.