Panther Hoops regular season recap
Panther Hoops MVP Race- Optimist's Final Five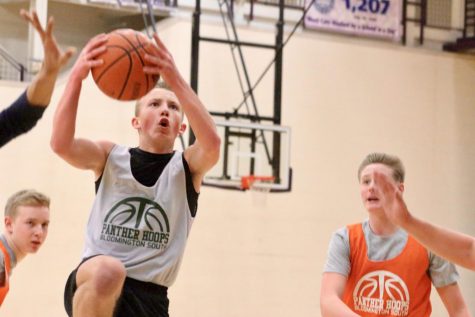 Jackson Moore (CMWK) – After claiming his first MVP award last year, Moore was predicted to lead his team to a top seeded spot this season. He has done just that, as the Ca$h Money organization is currently tied for the first seed and is second in the weekly power rankings. Moore was instrumental in getting his team to a one loss regular season, but he will likely miss all of the postseason as he will be attending the Big Ten Tournament in New York City.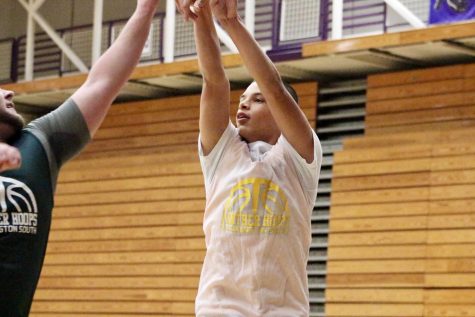 EJ Truss (Semi Pro)- Truss has been an extremely solid player in the league for several seasons. This offseason, Truss and the Semi Pro organization helped transform their roster into the clear championship favorite. League Sources have said that Truss was extremely influential in the acquiring of free agent and former South basketball player Alex Franklin. On the court, Truss has been very dominant, leading his team to a tie for the first seed.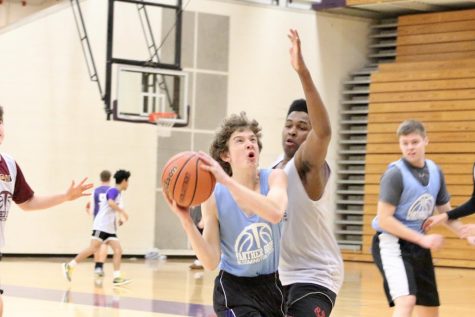 Scott Grabowski (C-team) – Although he has struggled to stay consistent on both ends of the floor throughout the season, when he hits his shots, C-team is vastly better. Grabowski has also been a key piece in the team's three game win streak, with one of his most recent games resulting in a 40 point outing. Grabowski's team just barely made the cut for the upper bracket, but, if they continue their string of success, C-team could become a real threat in the postseason.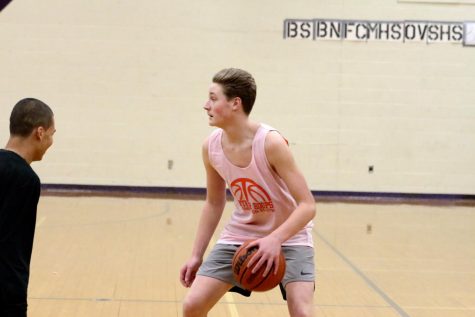 Zach Stewart (Waterboys) – The waterboys are a young team, and they lack the veteran experience that is key in title runs. However, the team's potential to become a future dynasty is there and spearheaded by Zach Stewart. His athleticism and height have helped his team tremendously, and, when paired with teammate JJ Thomas, they can be much more lethal than their 2-6 record suggests.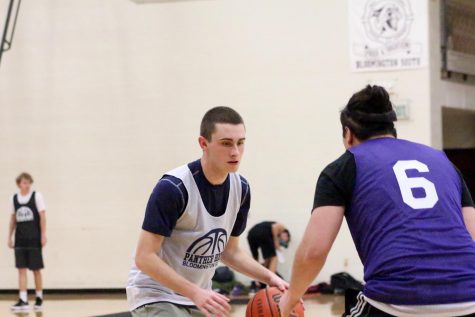 Teddy Kenny (Team Supreme) – Team Supreme is a veteran filled team that has gone through  ups and downs this season. They have several players that can be difference makers, but most of the offensive firepower has come from Kenny. Kenny has been a threat this season and will look to continue getting buckets in the postseason.
Honorable Mentions:
Seth Kestranek
Jack Gillard
Tiondray Hopkins
JJ Thomas
This season's Top stories:
C Team gets first win as a organization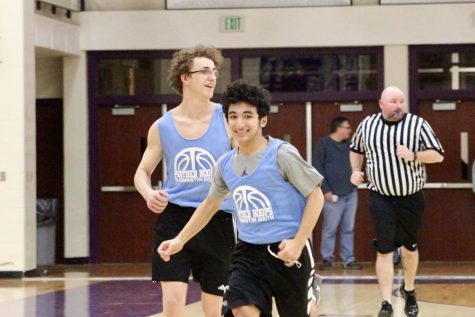 Sunday, Feb. 11 was a special day for the C-team organization. C-team, which had gone 0-10 the previous season, finally secured their first win. The win came against Panther Hoops #2 and gave the team some much needed momentum to get a spot in the upper bracket. After another another slow 0-4 start to the season, the team's first win was well received. C-team player Chris Piekarsky said, "It was big deal to get the win. We worked hard for it and deserved it."
Teammate and MVP candidate Scott Grabowski agreed, saying  "That was the greatest single accomplishment of my life. It boosted us to a three game win streak."
Coach Omodior suits up and shows out for his team:
Btown Kings Coach Oreva Omodior has never played in an organized basketball league, but his coaching has been key in leading his organization to a tie for first seed in the league.  This success has been largely due to the amount of talent on the Kings roster and their placement in the lower bracket. However, Omodior knows that even though he can't impart basketball knowledge, he can still motivate his players mentally. "I yell very loudly, and sometimes I hit my players. I have close relationship with every guy and their mamas, and they know what's expected," Omodior said.
Omodior has also risen the fashion level for coaches this year. While many coaches in the Panther Hoops league wear casual clothes to the games, Omodior opts to wear a suit. Omodior's reasoning behind wearing a suit is simple, " I go hard everyday, even if I'm not on the court. It shows the level that other coaches are at if they aren't dressing up. It makes me wonder what's is going on with the league these days?"
"I have a reputation in this league, and I live up to it- if I want it, it gets done."
Players vs. Referees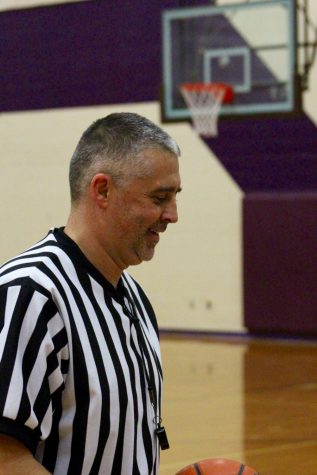 While many players in the league complain about officiating, few know how the refs are chosen. South Vice Principal and League Commissioner Jay True says that refs hired through a small pool of applicants that do twin lakes/JV games around town. When they have a hole, True will often ask faculty members such as Guidance Counselor Pat Cannon and Math teacher Thomas Rockey to fill in. True understands the complaints of players in the league but also wants them to recognize the amount of money it costs to hire refs.
"We pay refs $25 a game, hiring varsity caliber refs would be upwards of $75," True said.
"We could raise the cost for a team higher than $350, and then we might be able to afford it, but that's more money out of players pockets."
CMWK snaps Semi-pro's unbeaten record and celebrates Moore's birthday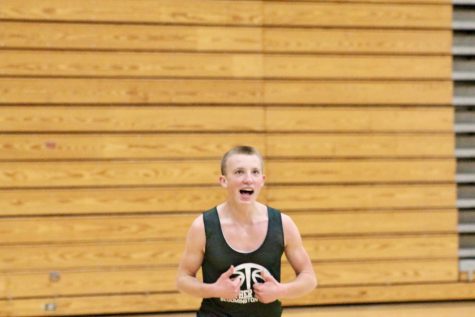 The crowd was relatively silent during the highly anticipated game between top seeds Semi Pro and CMWK. That silence was broken when sophomore big man Nate Taylor chucked up a three pointer in the final seconds. The sound of the swish was drowned out by the crowds cheers,  and, moments later, CMWK had handed Semi Pro their first loss of the season, 48-46.
MVP frontrunner and CMWK point guard Jackson Moore was ecstatic. After losing to Semi Pro earlier in the season by a mere three points, Moore was determined to give the Semi Pro team their first loss of the season. It meant even more that it came on his birthday.
"It was a pretty great day, I honestly thought we were going to lose on that (three point shot). It wasn't an easy shot by any means but Nate put it in,"  Moore said.
The win was just the icing on the cake (literally) for Moore, as immediately following the final buzzer his teammates, and fans serenaded him with an heartfelt version of Happy Birthday.