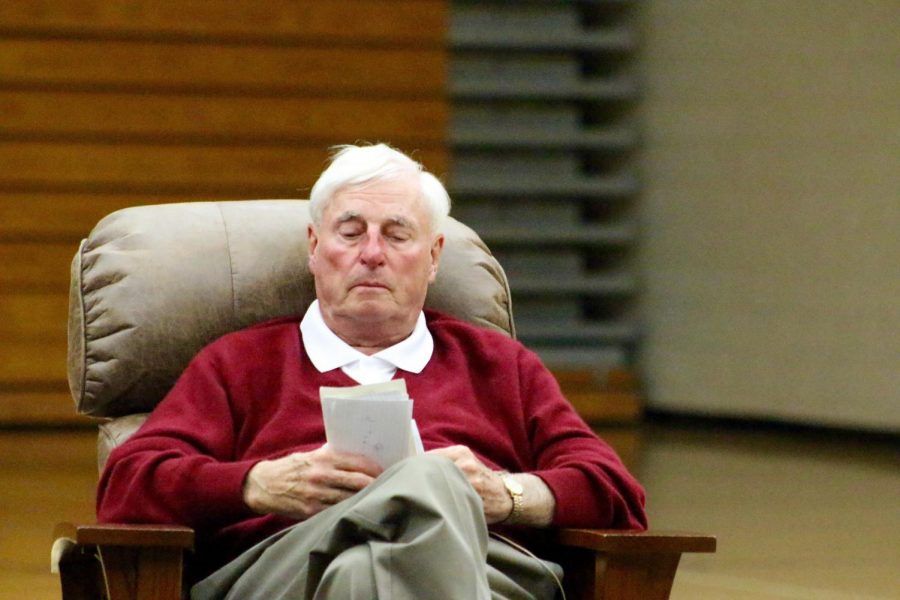 Calvin Prenkert
On Wednesday, Feb. 28, South's purple gym was packed full of an unusual crowd of fans. Gone was the rowdy student section and overly enthusiastic parents; replacing it was a much older generation of basketball enthusiasts. However, when former Indiana University coach Bobby Knight made his way to the stage, the amount of applause was certainly comparable to that of a high school basketball game
The event, marketed as an "Evening with Bobby Knight," was ticketed at $25 with 100 percent of the proceeds going directly to South. Knight and former Herald-Times sports editor Bob Hammel sat down on a living room-style stage equipped with leather chairs, a lamp and coffee table to talk about Knight's life and answer audience questions.
Last year, Knight returned to Bloomington to host a similar event at Bloomington High School North and was met by a similar sense of respect and admiration. Although his return to Bloomington has been met with some opposition due to the nature of his firing and the comments he made during his coaching career, you'd be hard pressed to find a anti Knight attendee in the crowd.
Knight, known for his candidness and no-nonsense, old school attitude, recalled stories from his long and historic basketball past. He repeatedly expressed his admiration and fondness of Indiana fans.
"The time I spent at Indiana University in front of the Indiana fans was the most interesting and enjoyable time of my career," Knight said.
Throughout the evening, Knight also spoke to the audience about what it was like to coach NBA greats, such as Michael Jordan, Charles Barkley, and Isaiah Thomas. Knight was MJ's coach in the 1984 summer Olympics, and spoke highly of Jordan, who served as the team's captain.  
"Michael is the best ever, he's exceptional," Knight said.
Near the middle of the event, Hammel invited South Coach J.R. Holmes up to the stage to shake hands with Knight. Holmes has the opportunity to become the winningest coach in the state of Indiana, and at the time of his retirement Knight led the NCAA in all times wins. (The record is now held by Duke coach Mike Krzyzewski, who was a player and assistant coach under Knight during his first coaching gig at Army).
After recognizing JR Holmes, several audience members asked Knight questions. Fans stood up and sang Knights praises, one attendee even compared him to Mark Twain, Benjamin Franklin, and Abraham Lincoln. Several others asked Knight questions about his coaching style. In one instance, Knight responded, "When you're a coach, you do whatever you can not to lose."
The makeup of the audience was almost exclusively adults, but there were several high school students who attended. Junior Will Hayes was in the audience and was intrigued by what Knight had to say.
"His stories were really funny, and he incorporated everyone," Hayes said.
Hayes also was surprised that more high school students didn't show up, "It was great time, but I think (students) didn't come because he's not part of our generation, but for true Indiana fans he's the best coach that ever lived."
Ultimately, it's doubtful that Knight would care whether many young people were even in the audience. As evidenced by him citing his favorite song as "My Way" and repeating his famous "bury me upside down" rant at the end of night. At the end, Knight seemed more interested in showing his gratitude to fans than shaming his critics.