Women's History Month
Hang on for a minute...we're trying to find some more stories you might like.
The words powerful, influential, significant and intelligent only begin to describe what it means to be a woman.
Throughout history, there have been many examples of women who have positively impacted the world and served as role models for future generations. Below is a list of women to celebrate this Women's History Month (and everyday) for their tireless work to benefit society.  
Marie Curie
Curie was a French physicist and chemist who conducted groundbreaking research on radioactivity. Curie was the first woman to win a Nobel Prize, the first person and only woman to win a Nobel Prize twice, the only person to win a Nobel Prize in two different sciences and was also the first woman to become a professor at the University of Paris.
Elizabeth Cady Stanton
Stanton was integral within the Women's Suffrage Movement and a leader of the Seneca Falls Convention (1848). This Convention was the first of its time and aimed to discuss the ways in which equality could be met (especially in the sense of social and voting equality). These hopes were partially met in the year 1920 when the 19th amendment gave women the right to the vote. Stanton was also president of the National Woman Suffrage Association, where she voiced concerns on voting issues, women's parental and custody rights, property rights, employment and income rights, divorce, the economic health of the family and birth control.
Malala Yousafzai
Yousafzai is an activist and the youngest Nobel Prize laureate in history. She is most known for her efforts for female education in the town of her birth (Mingora, Khyber Pakhtunkhwa, Pakistan) where women have traditionally been banned from schools. Her efforts have grown to an international movement to further the education of women. After she was shot, in an assassination attempt in retaliation for her activism, she gained international attention and support. Yousafzai has since started the Malala Fund, co-authored I am Malala and much more.
Frida Kahlo
Kahlo was a Mexican painter who has been recognized by "feminists for what is seen as [her] uncompromising depiction of the female experience and form," according to Feminism and Art History book. She is most well known for her portraits, her self portraits, and her Mexican-landscape-inspired paintings. In her early life Kahlo was diagnosed with polio and survived injuries from a deadly traffic accident. These experiences can be seen throughout her art pieces and helped to shape her as the artist that she is known as today. Kahlo, when faced with adversity, prevailed and went on to become, arguably, one of the most talented artists of her time.
Dr. Mae Jemison
Jemison is a physicist, engineer and NASA astronaut. She became the first African American female astronaut in the year 1992. Jemison is an advocate of science education and of having more minority students in science fields.  
Ruth Bader Ginsburg (RBG)
RBG is the second female Associate Justice of the Supreme Court and one of four who have ever served within this position. Ginsburg spent a considerable part of her legal career as an advocate for the advancement of gender equality and women's rights.
Eleanor Roosevelt
Roosevelt revolutionized what it meant to be First Lady and persuaded her husband to employ both women and African-American employees in prominent government positions. She was one of the most influential activists of her time.   
Frances Perkins
Perkins served as the Secretary of Labor from the year 1933-1945 and held that position longer than any other individual. Additionally, she was the first woman to be appointed to the U.S. Cabinet. This had in part to do with Eleanor Roosevelt's efforts to see more diversity within government positions.
Ellen Johnson-Sirleaf
Johnson-Sirleaf served as the 24th president of Liberia and was the first female head of state in Africa. Johnson-Sirleaf has been heavily involved in politics throughout her entire career. "Sirleaf is [currently] a member of the Council of Women World Leaders, an international network of current and former women presidents and prime ministers whose mission is to mobilize the highest-level women leaders globally for collective action on issues of critical importance to women and equitable development," according to the Council of Women World Leaders Biographies.
Aung San Suu Kyi
Suu Kyi is a politician, diplomat, author, winner of the Nobel Peace Prize, leader and a founder of the National League for Democracy and a civil rights activist in Myanmar. She is also the first woman to serve as Minister for Foreign Affairs, for the President's Office, for Electric Power and Energy and for Education. After her win, Suu Kyi used her 1.3 million Nobel Peace Prize money to establish a health and education trust for the people of Myanmar.
Rigoberta Menchú
Menchú is a political and human rights activist from Guatemala. She has devoted her life towards promoting the rights of Guatemala's indigenous population. She was awarded the Nobel Peace Prize and the Prince of Asturias Award for her work.
While all of these women are incredibly influential and historically significant, we must, more than anything else, make an effort to support the women in our daily lives and society.
We must also make an effort to encourage more women to enter STEM fields and political positions. Women, while holding seats in Congress, only comprise 19.8% of the total 535 members. Additionally, women comprise 48% of the workforce but only 24% of people in STEM.
While many great advances towards female rights have been made within society (such as getting the vote, the right to own property and the right to divorce), there are still many areas in which women are underrepresented and in which we are lacking as a society. This Women's History Month, take the time to thank and support the women in your life and to work to make advancements within female rights. When women soar, we soar. We must fight for equality for all.  
As Rosie the Riveter said, "We can do it!"  

About the Writer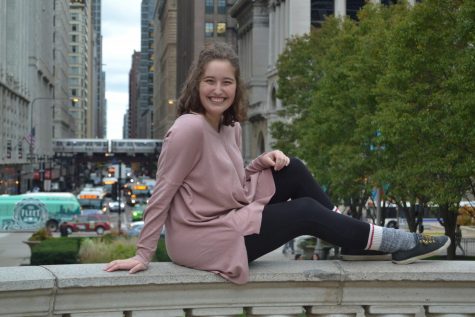 Jen Crystal, Editor
Jen is a senior at South who's enjoying her second year on The Optimist. She spends her time watching movies and avoiding physical activity at all costs....