2017-2018 Staff
Staff Writer
"Greetings and salutations." Jen is a junior at BHSS. She loves chocolate and good Gilmore Girls or Heathers references.
See Jen Crystal's profile
Sports Writer
Only true athlete on staff. Plans to dominate the Gothic-Optimist softball game.  Holds the Optimist record for most David's Sunflower Seeds un shelled and eaten in one day.
See John Law's profile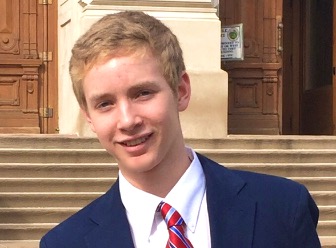 Sports Writer
Logan, also known as "Hanchett" or "Mr. President," is a sophomore at South. Logan enjoys playing baseball and getting frequently beaten by his superior, John Law, in fantasy football.
See Logan Hanchett's profile
Staff Writer
Iona is a senior at BHSS. They enjoy nothing but a nice cup of coffee.
See Iona Pfingston's profile

Web Technician
That numskull that didn't take journalism or photography
See Seth Thomas's profile
Staff Writer/Photographer
Lilly is a junior at BHSS. She enjoys thrifting, cookie brownies, and her blind Chihuahua, Etta.
See Lilly Thomas's profile
Editor
Mallorey is a fan of listening to records, eating vegan ice cream, watching 90s TV shows, going on hikes, and petting all dogs. She is ecstatic to be on the Optimist staff for her third year.
See Mallorey Daunhauer's profile
Sports Writer
Ethan, is currently a junior at South. Last year, he set the record for least advertisements sold. It is often said that the inner machinations of my mind are an enigma.
See Ethan Baer's profile
Staff Writer/Photographer
You probably know me as that girl who trips and falls constantly, often in public places. Lover of plants, ice cream, and Meryl Streep.
See Taylor Harmon's profile
Photographer
Professional Staff Monkey (If you find my chin, please return to A125)
See Will Gibbons's profile
Staff Writer/Photographer
Calvin is a junior at South and is thrilled to be on staff this year. Calvin enjoys eating Schneider's Sourdough nibblers and listening to Mac Demarco in his Subaru hatchback. Calvin generally spends time throwing the flatball,...
See Calvin Prenkert's profile
Editor
Molly Wagschal is returning to the Optimist for her second year. She is a goat enthusiast and has a great passion for the Spanish language. Molly also enjoys playing the violin and listening to Latin pop music.
See Molly Wagschal's profile
Editor
Very stressed.
See Elizabeth Rickert's profile