Junior Lara Breithaupt wins Project Green Challenge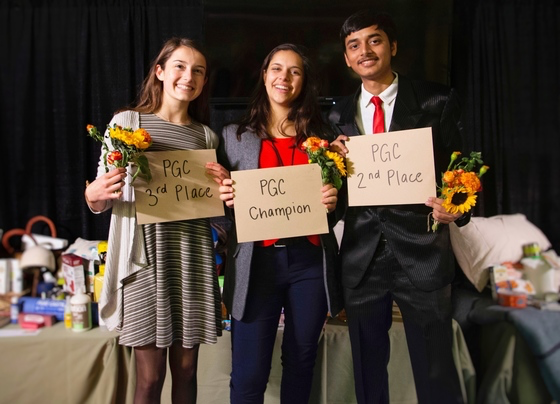 Hang on for a minute...we're trying to find some more stories you might like.
This past week, junior Lara Breithaupt traveled to San Francisco, CA, alongside 12 other selected students from around the country for a week of inspiration and education with the environmental company Turning Green. Every October, Turning Green hosts a national month-long challenge called Project Green Challenge, which aims to empower and educate students in high school through grad school about environmentalism and sustainability. At the end of the week, Breithaupt was named the Project Green Challenge 2018 Champion. She is the recipient of the PGC Grand Prize of a $5,000 Green Award from Acure Beauty, and an eco-lifestyle package worth over $5,000. In 2016, then Bloomington South junior Tamsin Stringer was named Project Green Challenge Champion as well.
"Being selected for the PGC finals was a dream for me. [In San Francisco] we had the opportunity to meet and hear from so many incredible speakers during the finals. The network of people that I now have inspires me to do more, as I can now reach out to so many people for advice," Breithaupt said.
Breithaupt says that she has always had a connection to the environment that was fueled by her parents taking her hiking and camping at a young age; but it wasn't until she started to notice the decline in the earth's health that she knew she wanted to make a change.
"I see people every day have a disregard for sustaining the earth, whether it is through little things like using a plastic water bottle, littering, or even bigger things like companies using products that result in deforestation, or organizations using unethical and unsustainable products. There is no way that I couldn't do something. PGC was a way for me to learn more about these issues and the impact that I can make," Breithaupt said.
While Breithaupt says winning PGC was a dream come true, it did not come easy.
"I spent hours every day completing the challenges [on top of homework and extracurriculars] because I wanted to show the best work that I could. My motto for the month was 'I'll sleep when November comes.' I was able to use my passion for the topic to inspire myself and others and seeing this really showed me that what I was doing was worth it."
Breithaupt believes environmentalism is important for young people to take part in, and urges South students to look at the opportunities they have, through any organization, to make a difference in the world.
"The future of our world rests in our hands as students. If we don't do something to protect the environment, it is truly doomed. I am so grateful for the opportunity that I had throughout PGC and I am looking forward to continuing my work."

About the Writer
Taylor Harmon, Editor
You probably know me as that girl who trips and falls constantly, often in public places. Lover of plants, ice cream, Julie Andrews and Meryl Streep.