Theatre South's debut at Thespian's Conference proves victorious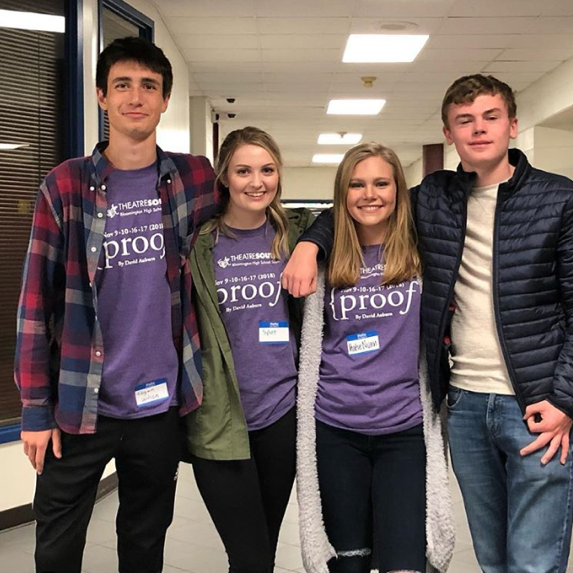 Third time's a charm? Not in Theatre South's case.
The group ended up winning their competitive debut in the Thespian's Regional Conference last Saturday.
At this conference, they performed a condensed version of their most recent show, "Proof," to compete against other schools in the area.
They emerged victorious, initially tying for first place, but ultimately receiving second. They will now prepare to perform and compete at the State Conference on Jan. 18-20 at Franklin Central High School.
The self-proclaimed "very competitive" junior Alex Coniaris was enthusiastic to be able to perform at this event.
"When I heard that we got to go to a competition for something that I love doing, it sounded awesome; and I was so pumped," Coniaris said.
However, the fact that they had to cut down the performance was indeed quite stressful for everyone involved.
"We could only do 45 minutes on the stage, and the performance was pretty hectic because originally we were going to go second, but another school was late so we had to quickly go first. Then, I remember, I was backstage and we were eyeing the time because we were in the last scene and we just saw the minutes tick by – 41, 42, 43 and I think we ended it on 44 minutes and seven seconds. We were really close to getting penalized," Coniaris said.
Another performer, junior Logan Wilson, had an added layer of stress because it was the first play he'd ever taken part in.
"I felt excited and anxious because it's the first performance I've ever done, so it was a very new thing to me. I did it mainly because they needed help for a part because someone wasn't going to be there, so I just jumped on the opportunity," Wilson said.
Wilson does not regret this decision as he has gained many opportunities from the experience.
"The experience was very interesting and the group is really fun – Sylvie [Rasche], Alex [Coniaris], Katie [Nunn], Noelle [Martin], all of them – are crazy and I would've never met them if I didn't do this," Wilson said. "I wasn't sure at first what was going to come out of it, but I made some good friendships with all these guys. Putting myself out there and being a character is very enjoyable," Wilson said.
Theater director Catherine Rademacher was the giddiest of the whole bunch about this incredible accomplishment.
"What it shows me is that the theater program should be respected because for us to just go into regionals for the first time and then win, it's a pretty accomplished thing to happen," Rademacher said. "I think that the actors and the technical crew should be really proud of what we accomplished there because there are a lot of schools that have been going there for a long time and have never advanced, so it's a big deal."
"What it means to me and what it means to all of Theater South is that we're a force to be reckoned with, and that we've got some awesome people who can really go out there and bring the house down," Conairis said.