Hanchett Hoops: it's a new year
"New Year, new beginnings." That's the message for most high school teams in the state, while an elite few are okay with "same old, same old."  The last few weeks were dominated by tournaments, either regional or talent-based, that previewed how teams stack up in talent and depth.
The Homeland
(Week Six)
Bloomington South wins third place at Richmond Tournament
Against Illinois CRU:
This one was never really in doubt. South was hot early, scoring a whopping 34 points in the first quarter to CRU's 17. The Panthers' offensive dominance continued; they led 55-35 at the half. Joey Bomba had a big first half as he scored 12 points, while Anthony Leal led things with 15. The third and the fourth quarters, which South cleared out the bench for, saw a Peyton French jump shot push the Panthers into triple digits for the first time since 1995. In the blowout victory, South had 12 players score, including some for the first time in varsity. Adam Graham and Anthony Leal had big games (each scoring 20 points), Sophomore guard Jalen Peck was impressive in limited time (he scored 8 points) and junior guard Cody Doig saw time (scoring 5 points). South 102, Illinois CRU 69
Against Seton Catholic:
Much like the first game, South got out to a big lead and never looked back. Anthony Leal, again, had a huge first half where he scored 24 points. The junior guard finished with 29. The offensive effort, aside from Leal's dominant performance, was well-balanced. Guards Connor Hickman and Grayson Rolen each had 10, forward Adam Graham scored 9 and floor general Noah Jager finished with 8. South 78, Seton Catholic 46
Against Zionsville:
Wow, what a game, just not the result South was looking for. The two squads came into the game riding winning streaks of seven (Zionsville) and nine (South). At the half, Zionsville led 28-24. Consistent with the game's back and forth style, it was the Panthers who led following the third quarter, thanks to a Connor Hickman three at the buzzer. In the fourth, South's Anthony Leal and Zionsville's Isaiah Thompson kept matching eachother offensively. After Leal hit 1-of-2 at the free throw line, it was Thompson who hit a game tying floater to send the game to overtime. In the last minute of overtime, South had several opportunities to win the game both at the free throw and three point lines. Leal went 1-for-3 at the free throw line, and last second misses at the three point line by Noah Jager and Joey Bomba rimmed out. Zionsville 63, South 62.
South scoring: Leal 21, Rolen 15, Jager 14, Graham 7, Hickman 5
Against Richmond:
Early on, things looked a lot like the first two games of the tournament for South. Anthony Leal connected from deep twice and added a dunk to help South start the game on a 10-0 run. Richmond couldn't get a grip on Connor Hickman, either, as he scored 14 in the first half. It was a good sign for the shifty sophomore guard who was sidelined due to injury early in December. The 44-20 scoreline at the half seemed insurmountable…but Richmond refused to let the game go away uncontested. The Red Devils, who received an infusion of talent this season when Lucas Kroft (a senior guard & Ball State commit) and his brother Andrew (a sophomore guard) transferred from Fort Wayne North. The duo sparked a huge fourth quarter comeback that closed the margin to 6. Alas, it wasn't enough, as time ran out and South had secured third place in the 16 team tournament. South 64, Richmond 58.
South scoring: Hickman 22, Leal 18, Jager 13, Rolen 7, Graham 4
BRUCE WATCH: The star senior forward saw action against Illinois CRU and Seton Catholic. He scored 2 points on a dunk from half-court against Illinois CRU. Against Seton Catholic, coach J.R. Holmes decided to take it easy and restrain Furr from completely humiliating the opponents.
(Week Seven)
South pushes past North, 70-61.
https://www.bloomingtonsouthoptimist.org/12925/sports/south-pushes-past-north-70-61/
Panthers stay hot, defeat North Posey 73-44.
The matchup with North Posey, a school of about 500 students, contrasted well with the previous night's home game against rival Bloomington North. While the bleachers were filled to a brim Friday night, Saturday's 5 p.m. start that coincided with the Colts game left the bleachers pretty sparse. Despite the potential trap game, South jumped out to a 17-2 lead halfway through the first quarter and never really looked back. Scoring for South, which was led with 24 from Anthony Leal, was well balanced behind the star shooting guard.
South scoring: Leal 24, Rolen 10, Hickman 9, Bomba 9, Jager 8, Graham 7, Doig 3, Furr 3.
BRUCE WATCH: The star senior forward logged a career high 3 points in the outing, playing much of the second half.
Across the State
Cathedral beats Zionsville 80-78 in 2OT, winning Richmond Tournament
Warren Central sneaks past Center Grove 52-50 in OT
Jeffersonville defeats rival New Albany 60-49
The Polls
Week 7
4A Rankings
Warren Central (11-0) (-)
Carmel (9-0) (-)
Cathedral (11-2) (+2)
Lawrence Central (11-2) (+5)
Floyd Central (9-1) (-1)
Center Grove (9-4) (-3)
Zionsville (10-3) (+3)
Bloomington South (12-3) (-)
Lawrence North (9-3) (NEW)
Pike (7-4) (NEW)
3A Rankings
Mishawaka Marian (10-0) (-)
Culver Academy (5-2) (+1)
Crispus Attucks (10-3) (+1)
Greensburg (12-1) (+1)
Silver Creek (11-1) (+1)
Northwestern (10-0) (+2)
Heritage Hills (11-1) (+4)
Brebeuf Jesuit (7-4) (+1)
Edgewood (11-2) (-7)
Delta (10-0) (-)
About the Writer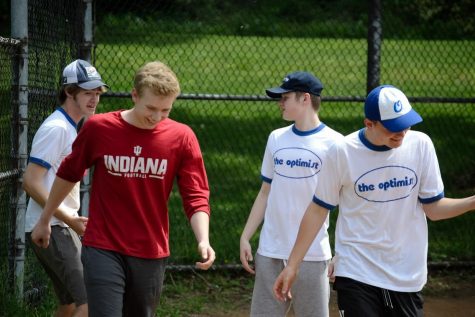 Logan Hanchett, Editor
Hit a dinger that still has not landed in the 2018 softball "game" against Gothic.