South Debate rolls through state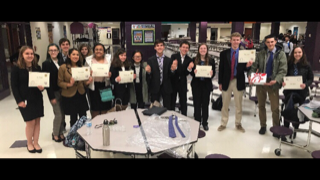 Hang on for a minute...we're trying to find some more stories you might like.
The Bloomington South Debate Team recently competed at the Indiana High School Forensics state competition. Of the four styles of competitive debate, Lincoln-Douglass, Public Forum, Congress and Policy, the Panthers fielded a team for the first three. As a team, South finished fifth which is their best team finish ever.
Senior Nidhi Krishnan was the only South team member "to break" in the Lincoln-Douglass format, meaning that she advanced to a tournament of the top 16 competitors. In this form of competition, ethics, morals and personal philosophy are debated one-on-one. Krishnan made it to the semifinals, placing third in the state.
Logan Hanchett and Ron Underwood took over the Public Forum section, in which the juniors debated several different positions with a series of two to four minute arguments and cross-examinations. They broke into the top 16 for their first time in their three years of competing. Hanchett and Underwood placed third overall. Sophomores Darby Fitzsimmons and Katrina Brown also broke into the top sixteen, and they finished eighth.
The Congressional debates were headed for the Panthers by senior and debate team captain Lia Sokol, sophomores John Beggs and Andrea Pinto. Sokol described the Congressional debate format as "made to mimic a session of congress in the US government. There are between 12 and 24 people in a chamber and we each give a speech for or against a bill." Beggs and Pinto survived the first cut of around 25 competitors in this format, while Sokol surged through the bracket to the finals. The senior captain finished in the top 16 in the state for this format.
The debate team's previous best of ninth place was far surpassed by this year's stellar squad. Sokol noted that "this year, we have become a pretty established team." As a newer team, competing against larger schools can be intimidating, but "this year is really exciting because we are one of those teams."

About the Writer
Tommy Beggs, Staff Writer
Tommy is a first year writer on the Optimist staff. He is a swimmer for Bloomington South and enjoys the Star Wars Prequels and playing a spirited game...