South baseball gets revenge, upsets North 1-0
It seemed as if there was an outside force that didn't want the Bloomington South baseball team and their northside rivals to play their first round sectional game. Right after the Panthers took the field for warm up, rain started pouring down and both teams were uncertain if they would get to play. After more stop and start rain, the sun came out from behind the clouds and made for an extremely humid game.
The Cougars chose to go back to their bread and butter and pitch IU commit Dylan Steele after he had shut the Panthers down earlier in the year. In the other dugout, South coach Phil Kluesner would make the decision to start senior slinger Chris Cole over fellow ace Wil Stockman. Cole had gone somewhat unnoticed throughout the season even after turning in impressive complete game performances against Columbus East, Franklin, and Martinsville.
Both teams would combine for a measly 5 hits through seven innings, with North even out hitting south 3-2. However, in the bottom of the second, facing a 1-2 count, Stockman was able to send Steele's curveball soaring over the left field fence for a solo home run and the only run in the entire ballgame.
"That was just the second home run I've ever seen hit on that field…it was an absolute shot" said assistant coach Eric Dodds.
Twice Steele would hit leadoff doubles for the Cougars but both times his courtesy runner would be stranded at third. South would only get one more hit after Stockman's home run as both Steele and Harry Deliyannis would shut the Panthers down for the five innings that followed. Cole was just too dominant though and finished out the game with a three-up-three-down inning in the seventh.
Ironically, no one thought South would be able to pull this off. North was ranked No.6, had a record of 21-3, and had an 18-game winning streak through the middle of the season. It seemed as if karma came back to bite North though. After the first game at IU that the Cougars won, Harry Deliyannis went straight to social media and took shots at the Panthers.
"We saw those posts on Instagram and it just made us all want to beat them that much more…karma isn't forgiving though" said Wil Stockman.
The Panthers play again tomorrow against Columbus East for a bid to the sectional championship @6.
About the Writer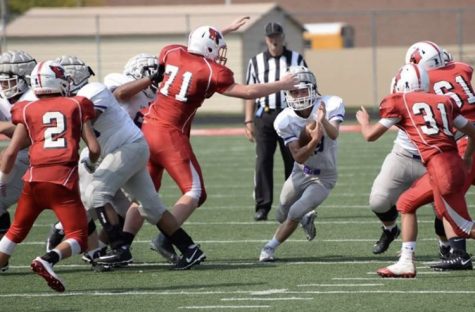 John Law, Editor
Only true athlete on staff. Plans to dominate the Gothic-Optimist softball game.  Holds the Optimist record for most David's Sunflower Seeds unshelled...