IU offers global language study program
Are you a junior or senior planning on or interested in attending Indiana University? Are you also interested in languages or global culture? The IU Language Flagship Program is part of a nationwide initiative to promote language proficiency in less widely studied languages. 
The languages currently offered at IU are Turkish, Chinese, Arabic, and Russian. The program offers immersive classes, eight week summer study abroad programs, and, after reaching certain levels of proficiency, the chance to spend a Capstone year in one of those four countries. Students can stay with a host family and receive personal tutoring and lessons.
Lia Sokol, who graduated from BHSS in 2019 and now attends IU, is beginning her study of Russian through the flagship program. She speaks Russian at home, and during her senior year at South, started looking into Russian classes at IU. 
"I was talking to my professor about different ways I could improve my Russian at IU, and she mentioned the Flagship as one of them," said Sokol. "I've talked to people who have done their [Capstone year] and they said it was absolutely incredible." 
Sokol is still quite a few years away from her own year of studying abroad, but she's very excited. "As someone who grew up speaking Russian, but never had the opportunity to really live in Russia… having that opportunity to live in a Russian speaking country is very exciting," said Sokol.
Even though Sokol was quite proficient in Russian before joining the Flagship program, she still recommends it for students who don't have as much experience. "For someone who hasn't had the exposure that I've had, this is probably one of the best things you could possibly do… It's not offered at every university, it's really unique," said Sokol. IU offers the most Flagship languages in the country, and is one of only 21 schools that offer any at all.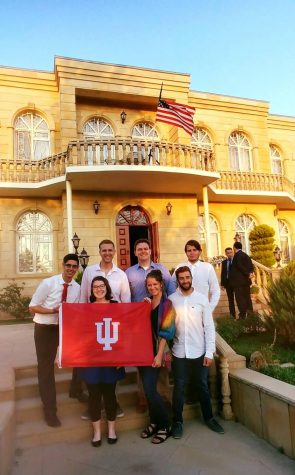 So you're thinking you might be interested in the Flagship program? Sokol says the best things you can do now to prepare are to try and take some IU language classes in your junior or senior year at South, and take introductory classes at IU. "I think that's probably the best way to figure out if that's what you want to study, and then if you realize it is, then absolutely do the Flagship. When else are you going to have the opportunity to have a partially-funded gap year in a foreign country, and get all of these incredible resources to help learn?…I cannot speak highly enough of it," said Sokol.