Colin's Columns: Girls Soccer
Hang on for a minute...we're trying to find some more stories you might like.
NOTE: This is a recurring column and will be updated as the season goes on.
Welcome back to Colin's Columns. This column will be updated after each girls soccer game, and it'll provide a recap, stats, a preview of the next game, and occasionally a quote from a player.
Stat Leaders:
Goals: Kristen Ridner 12, Melea Miller: 11
Assists: Aviv Hagar: 7, Emi McClaine and Nora Doyle: 6
Panthers (10-1-1) vs. Cougars (5-4-4)
South Footy won big last night against Franklin Community, unlike the boys. They bounced back after an ugly game against Terre Haute South to beat the Grizzlies 9-0. Kristen Ridner, Melea Miller, and Katie Majercak scored two goals each, and Nora Doyle provided four assists. They'll take on a decent North squad on Wednesday night, and will look to remain undefeated in conference.
Panthers (9-1-1) vs. Grizzlies (2-6) 
9/12/19
The Panthers won ugly last night at Terre Haute North. Although they won 4-0, the game was rough, and they struggled to move the ball around. Melea Miller and Kristen Ridner continued their excellent seasons by scoring one and three goals, respectively, to bring their combined goal total to 18. Footy faces Franklin Community next Monday, Sept. 16.
9/5/19
Panthers (5-1-1) vs. Patriots (2-2)
South Footy won ugly last night, as they beat Terre Haute North 2-1. It was the Panthers' first game in a week and the rust certainly showed. A first half goal by Melea Miller was the only action until the Patriots leveled the score in the second half. For South, a late goal by freshman striker Mallory Ballou secured the win. The girls have a busy weekend ahead, playing games against Richmond, Vincenes Rivet, and South Dearborn in the Hoosier Cup.
8/26/19
Panthers (4-1-1) at Olympians (1-1-1)
The Panthers traveled to Columbus on a rainy Monday to face a top 20 Olympian squad on their football field, and they did not disappoint. The game was tight until Emi McClaine scored a corner kick towards the end of the first half to give the Panthers the lead. Kristen Morgan made five saves to give the Panthers the shutout and the dub. The girls finally get a break after a packed week, and will travel to Terre Haute North next Wednesday, September 4th for a matchup with the Patriots.
8/24/19
Huskies (1-1) at Panthers (3-1-1) & Knights (2-0-1) at Panthers (3-1-1)
The Panthers opened up Saturday's doubleheader with a dominant 5-1 win over the Evansville North Huskies. The Huskies scored first, but Nora Doyle quickly answered and sparked a Panther comeback. The game was a success, minus the brutal knee injury to Maggie Doyle. Kristen Ridner and Melea Miller both upped their goal total by scoring two and one goals, respectively. 
The second game of the day versus the Castle Knights was a different story. Castle had a 1-0 lead for most of the game, but then Ridner scored her third goal of the game to get the tie.
The Panthers travel to Columbus East on Monday, August 26th, to face the No. 19 Columbus East Olympians.
Huskies (1-0) at Panthers (2-1) & Knights (0-0) at Panthers (2-1)
8/22/19
Panthers (2-0) at Trojans (1-0)
South traveled to Greenwood to face the No. 9 ranked Center Grove  squad on Wednesday night, and although they played hard, they suffered a 2-1 defeat. The Trojans scored two first half goals, including a questionable penalty kick that almost buried the Panthers; however, senior striker Kristen Ridner answered with a crucial goal in the second half that put the team back into the game. Unfortunately, it ultimately was not enough and the Panthers came home empty-handed.
South Footy has a double header on Saturday, August 24th at home versus Evansville North and Castle.
8/21/19 
Panthers (0-0) at Wildkats              & Artesians (0-0) at Panthers (1-0) 
The Panthers have had a busy past three days with a trip to Jasper on Saturday and their home opener on Monday night. Senior midfielder Katie Majercak, junior winger Aviv Hagar, and senior striker Kristen Ridner have been the main sources of offense for the Panthers, and their distribution has been very impressive. Ridner put up major stats that include four assists and two goals in the first two games. They beat a solid Jasper team 5-0 in just 42 minutes of play, and also hammered Martinsville 6-0 during a dangerously hot night.
Against Jasper, senior defender Kira Kunzman opened up the stat sheet with a right footed shot into the upper right hand corner of the goal. It was one of the fastest goals scored in South Footy history. Sophomore striker Melea Miller showed us that she is ready for a breakout season by scoring three goals in her first two games.  The biggest surprises of the season have been freshmen strikers Lydia Wiley and Nora Doyle. Wiley and Doyle combined for three goals Monday night against Martinsville, which was half of the Panther goal total. 
Up next, the Panthers travel to Greenwood on Wednesday to take on a Center Grove squad that they lost to last year during the regional finals. This should be a good test for the Panthers, and a potential preview for the 2019 regional final. 

About the Writer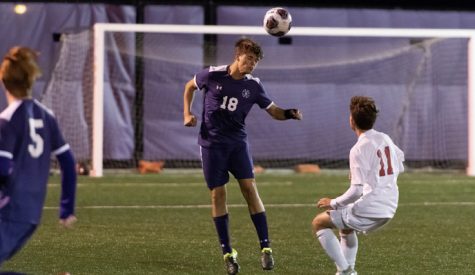 Colin Doyle, Staff Writer
Colin is in his first year as a staff member of The Optimist. He plays soccer year-round and is a member of the Bloomington Bullets.