The purpose of art: a review of the 4th Street Arts Festival
The weather was almost unbearably hot, but the art made trekking in the heat undoubtedly worth it. 
The 4th Street Festival of the Arts and Crafts took place this Labor Day weekend on Aug. 31 and Sept. 1. For thos who have never heard of it, it is a non-profit organization with a festival committee of 17 members who regularly display their work at various art fairs around the country. The festival itself started in 1977, when there were a lot of well-known artisans in Bloomington. That Labor Day weekend, the weekend when IU students returned to campus, there were 55 exhibitors. Now, the festival hosts 120 artisans from all over the nation. 
This year's festival was lively, buzzing with activity as people from all around Bloomington floated from one booth to another, admiring various kinds of artwork from paintings to jewelry to ceramics. 
As a festival visitor who only knows how to draw stick figures, I was blown away by the work displayed by this year's festival artists. Everything I saw brought about feelings of wonder and pride for the town I live in. To find out more about the artists and their work, I talked to some of them to learn about their inspiration.
For Rebecca Lowery, a local artist from Ellettsville, her ceramics have been a part of her life since 1990. Her work was as lively as the festival environment; her mini water fountains and teapots were colored so brightly that I couldn't help but smile when I saw them. The teapots even had little faces on them; they were supposed to look like they could get up and walk away.
"Everyone should have a little magic in their day," said Lowery about the inspiration behind her work. 
For Dylan Engler, an artist from Granville, Ohio, his glass work, including glass coasters and plates with bright and colorful dots, had a similar inspiration.
"A lot of people describe [the art] as happy… [it's a] happy place," said Engler on his work. 
When asked about why he chose this festival, Engler happily commented on Bloomington's environment.
"I like the diverse crowd that a college town brings," said Engler.
Moving through the festival, I came across some other interesting works of art. When I saw the booth of Ansley Larrson, a jeweler from Memphis, Tenn., I did a double take to make sure I read her sign correctly. Her jewelry is made from goose egg shells. 
"I'm going to tell you a story," said Larsson when I asked about her inspiration. 
She began to talk about the first time she saw someone demonstrate the Ukranian art of pysanky writing, in which artists decorate raw eggs with hot wax designs applied with a special stylus. 
"It was the coolest thing I've ever seen," said Larsson on the experience. In fact, seeing the demonstration inspired Larsson to do her own pysanky writing on "all kinds of eggs: chicken, goose, [and] turkey." 
Toward the end of the festival, I came across Martina Celerin's booth. Celerin, a fiber artist from Bloomington, made 3D pieces that brought to life meaningful messages. 
"2D is flat," Celerin said with a chuckle when asked why she did 3D art. With 3D art, one is able to use more of their creativity and add some more innovation to their pieces.
"You can have the same material in the foreground and the background," said Celerin. 
One of the 3D artworks that stood out to me was called The Key. Made from several kinds of materials like wool, yarn, and wire, the art featured a group of different keys on a surface. Some of the keys were within a birdcage popping out at the viewer, with a bird perched on the edge of the cage's wide open door, ready to fly away. 
The message of this work was uplifting. In life, there are many paths; one needs to find their own path and see what kind of journey they'll have with it. All of the paths are different for different people, but they are all freedom. In The Key, the paths are symbolized by the keys; the bird has found his key and unlocked his cage, ready for his journey.
 "In life, you pick a key, and it works for you," said Celerin on the piece. 
In all, it's safe to say that the 4th Street Festival of the Arts and Crafts demonstrated a lot of things about the purpose of art. It brings us the joy we need in our lives; it challenges the status quo. Most of all, it gives us insight into the adventures of life. 
About the Contributor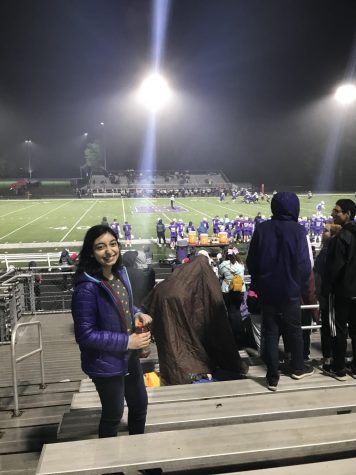 Raya Haghverdi, Staff Writer
Raya is really excited to be spending her senior year on the Optimist. When she's not writing stories or accidentally killing her potted plants, you can...