How to guide on bullet journaling
Hanh Tam Bui, Staff Writer
September 5, 2019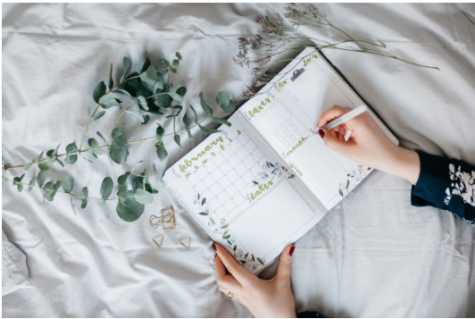 There is a high chance one has encountered the Bullet Journal, also known as BuJo, on the internet due to its growing popularity. Throughout the internet, it's become associated with beautiful notebooks that can be artistic masterpieces or feats of minimalism. The Bullet Journaling method is defined, according to the official "about" page on bulletjournal.com as "A mindful practice disguised as a productivity system." The goals are for practitioners (who are also known as Bullet Journalists) to live with an abundance of intent, productivity, and meaning. 
The history behind the Bullet Journal method is an interesting one, and can help provide an understanding of the utility of it. Ryder Carroll, a digital product designer and art director, launched https://bulletjournal.com/ on Aug. 18, 2013 after taking time off to invest in the project and seeing a colleague in awe of his method many years prior. Eventually, it became a sensation as communities began to spring up with their own versions of the method and Carroll continued expanding on it through a variety of projects, such as a book titled "The Bullet Journal Method: Track the Past, Order the Present, and Design the Future," among other outlets. 
Bullet Journaling may seem intimidating at first glance, as it's mistakenly assumed one has to get certain supplies of stationery or specific notebooks. However, there are several people who find joy in investing time and money into their journals as it's become a part of their life. It's not a necessity and it's not the right fit for everyone who may be interested, but it's worth trying out. The beauty of Bullet Journaling comes from its versatility as one can make adjustments to what best suits their lifestyle and what their goals are with journaling. It can be as simple as starting with a notebook and a pencil laying around the house. 
The basics of the Bullet Journal are as follows below: 
The Index- This section lives in the front of the notebook and is helpful in tracking where everything else is, specifically for any pages that will go through continued revisions. 

The Future Log- This part of the book logs any events that will occur outside the current month. There are many ways to lay this out, such as having the next six months outlined or maybe even the whole year. It's helpful in looking at goals from a long term perspective and how to work towards them. 

The Monthly Log- This log is for the current month and meant to keep track of events, tasks, and any additional notes about them. With Carroll's method, it's recommended to have a calendar page that is dedicated to having a large overview of the month and scheduling tasks and events. Additionally, there is the task page on what needs to get done and what has priority.  

The Daily Log- These logs are meant to be created as the day comes, rather than ahead of time like the monthly or future logs. The Daily Log is designated for day to day use as a way of keeping track of daily tasks and events. 

The Key- While Carroll divides the items that fill these logs as tasks, events, and notes to add and designates certain symbols for them, this is another opportunity for someone to adjust and customize it. The Key is placed in the very front of the book and is the master list for symbols that can be seen through the journal. Some examples of how the key can be utilized include categorizing tasks and events as intended, but also extracurriculars, appointments, important meetings, etc. There can also be symbols added that provide more context and highlight important tasks or moments of inspiration, which the system calls signifiers. 

Customization- With understanding of the groundwork of the system, it opens up all kinds of possibilities as one's bullet journal can be anything such as a planner, habit tracker, sketchbook, diary, etc. It's highly encouraged to find what a person wants to get out of the system and where to go from there. Even the structures described above are open for experimentation and variation. 
There is also a video on the Optimist Website with an example of a weekly spread.
When considering trying out Bullet Journaling, it is important to get past intimidating misconceptions, and think about what to get out of implementing it in your life. Bullet Journaling isn't necessarily about creating a masterpiece void of mistakes or having the prettiest journal. The core of the method is about practicing mindfulness and being a tool for people to use that helps them live their best lives.