Borhi brothers and South tennis hungry for more
When roaming the campus of Bloomington South, it is common to hear much discussion about the boys tennis team. Tennis simply isn't popular as popular a Hoosier sport as basketball and football. However, that could all change very soon.
After a couple of years in Bloomington, Daniel and Marcel Borhi returned to their home country of Hungary for a year, and the success of the South tennis team took a massive hit. The brothers continued to train, however, and returned to Bloomington last year with much improved skills and the intent to put South tennis back on top. They did, leading South to a sectional championship, but this year they are hungry for more.
"I definitely improved over that time. The competition isn't any better over there…the only difference is the surface of the court being clay," said Daniel Borhi. Now back on the hardcourt, Daniel believes they can "definitely win sectionals, maybe regionals, and then get to state."
Marcel definitely showed a little more confidence. "We're really good this year. I think we actually have a pretty good chance at semi-state this year," said Marcel. 
He has good reason for that confidence, though. Up until last Thursday's loss against No. 4 Terre Haute South, the team was undefeated and had placed third in a very competitive tournament at North Central against several of the "best teams in the state," according to Daniel. Make no mistake though, in their lone defeat, South did not go down easy against the Braves, only losing 3-2 after Marcel was edged out on the final point of the entire match.
The crazy thing is that the Borhi brothers might not even be the premier players on the team. Both freshman, Chris Lian and Michael Asplund have come together to form one of the most dangerous No. 1 duos in the state and have torn through their opponents, even placing first at the North Central tournament. The team is extremely solid all the way around as evidenced by the second place finish of No. 3 singles Ethan Uhls at North Central.
"Our No. 1 duos is looking pretty solid, No. 2 duos is improving a lot and growing, and our singles are looking really solid" said Marcel. 
Marcel even credits some of his success to his brother as he explained how they "challenge each other in practice and get to share experiences which is really fun." 
If you haven't gotten to see the boy's tennis team yet, come out and cheer them on as they look to strengthen their resume and beat down on the crosstown rival Cougars Sept. 12 at home.
About the Writer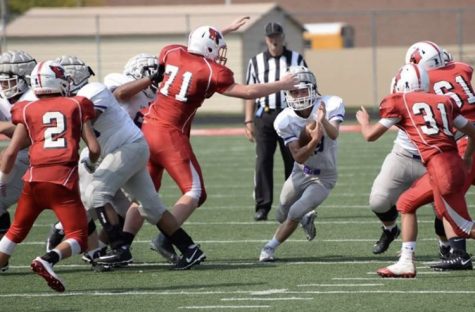 John Law, Editor
Only true athlete on staff. Plans to dominate the Gothic-Optimist softball game.  Holds the Optimist record for most David's Sunflower Seeds unshelled...