Girl's basketball season preview
Now that Addy Blackwell is gone and off to college, the girls basketball team has a tremendous challenge in maintaining their winnings ways and finding a new star player to lead the team. While Blackwell graduating was a huge hit to the program, she is just about the only contributor from last year that won't be returning. 2018-19 Conference Indiana Coach of the Year, Larry Winters, will have a great task in adjusting to life after Addy, but he should be able to put together a pretty good team this year.
Potentially the key to success this year will be to get the ball to senior sharpshooter Lauren Conner as much as possible. Conner's clip is unlike anyone else's in the area, male or female, and she could definitely slide into the role of star player. Not far behind, though, are nifty senior guards, Anneke Furr, Cami Gillard, and Kristen Ridner. Several matchup nightmares should be created by senior forward/guard Anya Friend as she looks to punish opponents with her size and strength, maybe stepping out to the three-point line and popping the occasional triple as well. 
The return of Olivia Blackketter will be huge as she missed all of last season with a torn ACL. With Blackketter back, the Lady Panthers will be able to have a post game to complement the sharpshooters beyond the arc. Another key player will be senior forward Clara Voskuil who adds a certain level of grittiness to the squad. 
The hidden strength for this team might be there depth. The inside scoop is that Blackketter, Conner, Ridner, Voskuil, and Friend will most likely be the starters for the first game against Pike on Saturday. However, the bench will boast reliable seniors such as Gillard, Furr, and Kira Kunzman along with proven youngsters Brooke Grinstead and Kendall Harmon. 
The biggest difference this year may be the fact that there really won't be one ball handler that runs the offense the whole game. 
"Everyone handles the ball for the most part…and has stepped up in a big way and so now we'll be able to look rely on everyone rather than just one person" said Blackketter.
"We have eight seniors and we've all played together since 7th grade so that helps a lot…I think sectionals is still there because we won last year, but we want to go beyond that."
About the Writer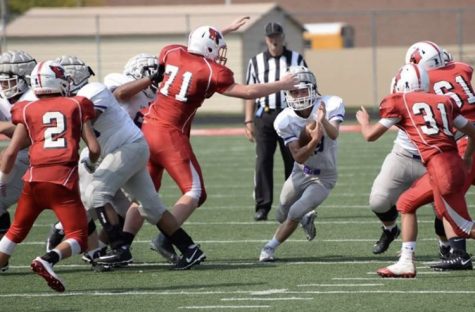 John Law, Editor
Only true athlete on staff. Plans to dominate the Gothic-Optimist softball game.  Holds the Optimist record for most David's Sunflower Seeds unshelled...