Peculiar pets popular with some students
Bearded dragons, mice, and squirrels may not be your average household pets, but according to some students at South they make great companions. From high food expenses to a difficulty finding pet sitters, these curious pets certainly come with some costs. Regardless of a few drawbacks, these pets have certainly made themselves part of the family.
Senior Alexa Stewart owns a bearded dragon named Meowy, who got his bizarre name from "pacing like a cat." Stewart used to live in New Mexico where bearded dragons were abundant. She would catch and name them by marking them with nail polish. She named one of her favorite reappearing bearded dragons Meowy. Unfortunately, her parents didn't allow her to take Meowy when she moved to Indiana. Soon after, Stewart bought a bearded dragon and named it Meowy in honor of her old pet. Meowy's diet consists of silver worms, spinach, and other vegetables. 
"The food can get expensive," Stewart admitted. 
When it is warm outside she takes Meowy outside to run around the grass. Overall, a bearded dragon seems like an ideal pet.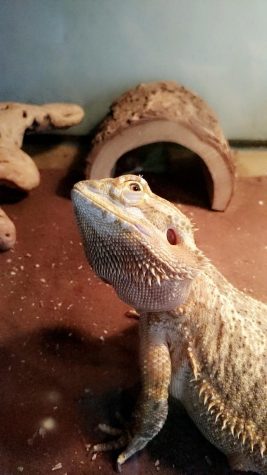 Senior Kirsten Lozano has a grand total of 16 pets living with her. This unusually large number includes eight dogs, four cats, two guinea pigs, one mouse, and one rabbit. She bought her two guinea pigs, Carly and Luke, and her mouse, Isaac, from Petco. The guinea pigs are social, playful, and easy to feed. The mouse, on the other hand, is quite unfriendly so she doesn't interact with him much. Her rabbit's name is Milagro, which is Spanish for miracle. Lozano rescued Milagro after he was run over by a car and sustained several serious injuries. The rabbit is still somewhat timid around people. Lozano says that the large quantity of her pets is due to her mother's love of animals.
 "We used to foster animals and she would get too attached," Lozano said. 
One downside of having so many pets is being unable to leave for long periods of time for vacation. Despite this drawback, she is grateful for all of her companions.
 "You always have someone to play or cuddle with," Lozano said.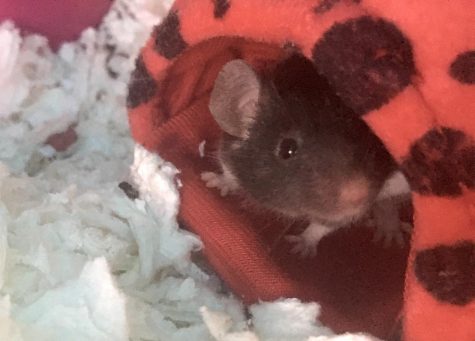 Sophomore Diego Boese owns a squirrel named Güntheer. He got his name from having a silly personality. Boese rescued Güntheer this past August, who was just a hairless baby at the time. Boese speculates that Güntheer fell out of his nest. Boese brought the baby squirrel to a humanitarian center where they nursed him back to health.  His diet consists of nuts, tomatoes, and lettuce. Güntheer recently has been able to start cracking open hard nuts. Güntheer mostly stays at the humanitarian center where he has a bigger cage to roam around in, but sometimes he goes home with Boese. Despite Boese having a dog, there have been no problems between the two pets.