Bloomington South: a well-oiled machine
Throughout your time at South, some things are bound to happen. Seeing Mr. McKay wearing a wig for picture day, Dr. Rakic wearing a suit and tie every day, and seeing the history department huddled in their corner during passing periods are just a few of those things.
Rarely do you ever find such an amazing collection of administrators and instructors, and all current students, incoming students, and parents need to know how good of hands they are in with the staff at Bloomington South.
Starting from the top, South's administrators are all amazing. Every principal, guidance counselor, and secretary are always helpful and care about each and every student. Assistant principals Joe Doyle and Jay True are involved with extracurriculars with Riley Dance Marathon and Panther Hoops. South also has six available counselors who know each and every one of their students.
The math department at South is incredible, and they teach a variety of classes from Algebra I to AP Statistics. Mr. Berzins is the Geometry Honors teacher and leads one of the most unique and interesting math classes you'll find in the whole school. He is a great storyteller, and incorporates some sort of life lesson that makes each one of his instructions more meaningful than just theorems and proofs. A common theme in the math department is puns, and although Mr. Berzins has some great puns, Mr. Frey's and Mr. Raney's might be better. They teach Finite and Calculus respectively, which are some of the college level math classes offered at South. Both teachers are magnificent and do a great job of making math fun and understandable, even if Mr. Raney sees you as an algebra weenie. Joining the all-star lineup are the Parkers, and while there may be no relation, it's clear that teaching runs in their blood. Kara Parker teaches Algebra II, Physics Honors, and AP Physics while Lisa Parker teaches AB Calculus along with Finite. One of the greatest achievements that can be accomplished at South is making Lisa Parker's wall of achievement. If a student gets a perfect score on a test, they get on the board as a celebration for their hard work. Despite math being the bane of some students' existence, the teachers at South do a fantastic job working with their students, and helping everybody to learn the content.
Another staple at South is the smell of waffles on a cold winter morning on the first floor. Ms. Gray and Ms. Ansari are known for cooking waffles and pancakes for their students to celebrate learning Spanish. Although Spanish is the most popular class, French, Latin, German, American Sign Language (ASL), and Chinese are also offered. Most students think they will just be learning how to speak the language, but the classes also provide cultural knowledge as well as writing practice, and in Spanish VI, students actually get to read a spanish novel. In German, there is the extremely charismatic Mrs. Frye who offers students the opportunity to take a summer trip to Germany every couple of years. German isn't the only class that takes trips, though, as Mrs. Smith provides her French students the opportunity to go on a trip to France.
All students at South are required to take biology and then either physics, chemistry, or both, and South has a great lineup of teachers for all of those classes. Ms. Figolah is one of the Honors Biology teachers, and in her class, you will learn all about cells and biodiversity around the world. She is also the AP Environmental Science teacher, APES for short, which teaches students all about complex interactions between humans and nature. Chemistry is a class that a lot of students are excited to take, because they grew up seeing cartoons of science experiments and explosions. Unfortunately, explosive chemistry is not offered, but there are still a lot of labs where students get to use chemicals to create fascinating reactions. Mrs. Black and Mr. Rapp teach this course, and athletes might also be able to find Mrs. Black in the trainers office, where she works as an athletic trainer. Physics is another class that most students take, and it is the study of movement. Kara Parker, who was mentioned earlier, is one of the physics teachers, and also teaches AP Physics. Another common event at South is seeing the AP Physics students nervously studying before their test, getting a 50% on the test, then getting a B due to the curve. Senior year offers several other advanced science classes such as AP Chemistry and AP Biology. Dr. Milks is the AP Biology teacher, and she is one of the most knowledgeable teachers at South, boasting a Ph.D and MA from Stanford University. You will frequently catch her chatting with students during passing periods.
The Bloomington South English department is one that is filled with plenty of experience. Led by our very own Optimist adviser and department chair Kathleen Mills, the English teachers at South have been known to challenge students while also making their classes fun and engaging. Mills in particular is different from most high school teachers. Her classroom environment is relaxed yet productive and lively.  Whether you have her for AP Lang, Film Lit, Optimist, or all three, you are sure to have a good experience. The IU credit for English, W-131, is taught by Mrs. Shelton and Dr. Rakic. Both of these teachers really push their students to do their best but are also helpful and friendly. Rakic also teaches honors 10th grade English along with Mrs. Walls, a favorite of South students. For the Core-40 English classes, Mr. Quimby and Ms. McGinnis are well liked by students. 
South's history/social studies department is filled with not only good teachers, but characters as well. The history teachers are highlighted by Mr. Hoagland, who teaches AP Euro and honors world history. Hoagland is one of, if not the best teacher at Bloomington South. He's passionate about what he teaches which makes his classes interesting and his content easy to learn. Just a few steps down the hall from Hoagland is baseball coach Phil Kluesner, who teaches honors world history and AP U.S. history. Although Kluesner's class is not heavy, his high energy level and passion for American history make note taking fun. AP U.S. history is also taught by Mr. Carroll, who has an old school style of teaching but is very well liked and his students learn the content well. Beloved by seniors is government teacher Mr. Lumpe. Lumpe is a great teacher and by far one of the nicest people you will ever meet. One popular social studies elective at South is sociology, taught by Mrs. Steele. This class is mostly student discussion based, and it brings up lots of interesting topics.
At the end of the day, it's the teachers that make school what it is. Although online class is enough to get by short term, you can't really learn as well as you could from the great teachers at Bloomington South. If we as students can take anything away from these troubled times, it's that we need to appreciate our teachers.
About the Writers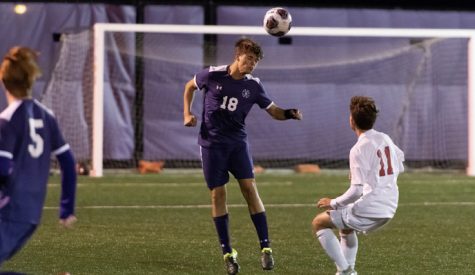 Colin Doyle, Staff Writer
Colin is in his second year as a staff member of The Optimist. He plays soccer year-round and is a member of the fat clips panther hoops organization....
John Kelly, Editor
Third year with the Optimist.