How art classes are transitioning online
Art classes are often a chance for students to take a break from their normal academic schedule and do some hands-on activities and creative thinking. South students are particularly lucky to have access to wonderful resources that they might not otherwise get to use, like the ceramics studio, darkroom photography class, and stained glass class. But how are art classes adjusting to all-online school, where students can't even step into the studio? 
Stephanie Benham, an art teacher here at South, teaches ceramics, darkroom photography, and computer graphics. Benham and other art teachers like Cynthia Leistikow, who is teaching a drawing class this trimester, are trying their best to adjust to a system not well suited to art classes. "Everything in [art class] is tactile, hands-on. It's an experience. To take that and translate that into language for a document… it's challenging," Benham said. "I've taught 30 years, and I feel like a first year teacher."
 Leistikow has assigned her drawing students during this first week a more open, free-choice project about students' experiences with the pandemic that they're able to complete with supplies many people already have at home. "I really feel for my fellow teachers with 3D media classes — it's definitely easier for a class like mine to transition to online," said Leistikow.
Beginning this Friday the 21st, the fine arts classes will begin to send home supplies for students.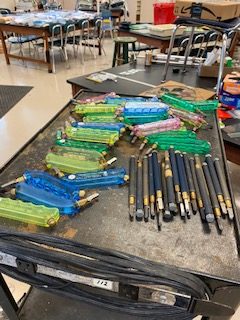 For Benham's beginner ceramics class, she has created take-home clay kits. The kits will include clay, tools, and glazes that students would normally use in class. "A big concern is how to do [this] safely, of course," said Benham. The current plan is to use a drop-off system in which students can work on their pieces and then bring them to school to be fired, or, in the case of Leistikow's drawing class, students can submit images to teachers.
"I'm fairly confident that students can do their work at home… But I still want them to love what they're doing, I don't want to make them jump through hoops," said Benham. Her concern is that students won't get the same experience with the limited resources she can give them to use at home. 
In Benham's advanced photography class, she's asked them to document their personal experience with Covid. Many photographers and videographers have captured compelling imagery of the reality of life in a pandemic, and she hopes her students can explore their emotions about Covid through their art as well. Benham and Leistikow both like to say that art is an outlet — anyone is welcome in the studio when they need to take a break, and while teachers can't open their physical studio doors, they hope their classes can still be a chance for students to express themselves. "I want them, through their photographs, to express how [the pandemic] affected them, what they've taken from it, and what it's taken from them," said Benham.
"This is a big improvement from the spring," said Leistikow. In March when school was shut down, many teachers were unprepared for online teaching, and South for the most part didn't have live classes. Leistikow is glad to be having live sessions where she can talk to her students, though they don't replace in person classes. "I miss that classroom dynamic… to be working with other people in that classroom setting can be a really great experience."
The art teachers all hope that this system will work as well as possible considering the circumstances. "We're living in a pandemic. I mean, nothing's perfect," said Benham. Despite everything going on, they hope that students can come away from their classes with, if not the experience they might have gotten with in-person classes, an understanding of the media and some general knowledge about a topic they might not be exposed to in their normal lives.
"This can be something they learn and can have in the future, to use for themselves. Art can be your disconnect from the world, you know?" said Benham.