The great escape that sports provide in difficult times
How sports have helped America in the past, and how sports are helping America in the present
During times of national crisis, America needs sports, and they are there for us. We need them to provide an escape, to provide unity, to provide hope. That's just as true today as it has been during past times of crisis.
In January of 1942, barely a month after the Japanese bombed Pearl Harbor, causing the United States to officially enter World War II, the Commissioner of Baseball wrote to President Franklin D. Roosevelt to ask whether the professional baseball season should continue. Baseball certainly could not have been at the top of the President's mind, but Roosevelt responded promptly:
"I honestly feel that it would be best for the country to keep baseball going."
Roosevelt wrote that baseball would keep morale high, would keep the American citizens at home entertained, and would keep the men who were unable to fight in the war employed. 
Roosevelt was right: baseball boomed during the war, both at home and overseas. After being drafted into service, young star players like Joe DiMaggio of the Yankees and Ted Williams of the Red Sox played in service ball leagues. Soldiers played recreationally whenever they could, and in America, baseball's popularity grew, reaching an all-time attendance high of almost 11 million people during the 1945 season, the last season before the war ended. 
Baseball was a way for Americans to take their minds off the war and ease the anxiety felt across the country. During World War Two, America needed escape, and sports were there for us.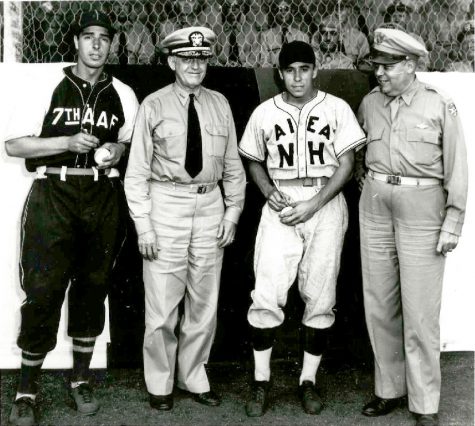 More generally, sports are an escape. They are a brief relief from the world around us. They give us a few hours of ups and downs, highs and lows, with little consequence in the rest of our life. They are entertainment, pure and simple. 
Arguably more entertaining and enthralling than the sporting events, however, are the athletes. We especially pay attention to athletes: Cleveland Browns wide receiver Odell Beckham Jr. has 14.1 million followers on Instagram, Los Angeles Lakers star LeBron James has 71.1 million, by far the most of any American athlete. We shell out hundreds of dollars to rep the jersey of our favorite player, and even more to get an autograph or a photo.
There's a good reason for this idolization of the athletes we see play everyday. They're inspirational, and leaders, and their performances on the gridiron and court and diamond bring viewers and fans and Americans together like nothing else can. 
Never was this unity more obvious than in 1980, when hockey could truly claim to be 'America's Game,' if only for a brief period of time. The setting was Lake Placid, New York, host of the 1980 Winter Olympics. Three months earlier, in December of 1979, the Soviet Union had invaded Afghanistan, escalating the Cold War and putting the United States on edge. And in February of 1980, on the rink in Lake Placid, a much smaller scale cold war was fought. 
The Soviet Union had a dominant hockey team, winning five out of the last six, and four consecutive, gold medals at the winter Olympics. They were the clear favorites entering the Olympics, expected to manhandle their competition and come up with a fifth consecutive gold. The United States team, on the other hand, consisted mainly of college players, most of whom had never seen professional playing time. The average team age was 21. Hopes for the team were incredibly low.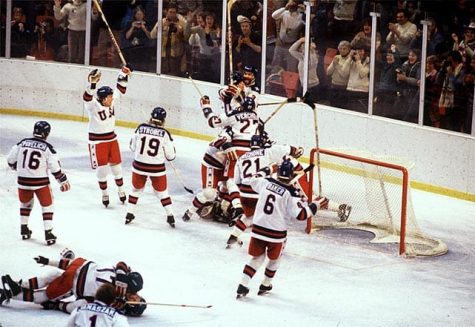 Yet one of the great things about sports is that nothing is certain and no one can be counted out. 
The United States faced the Soviet Union in the first game of the medal round. Somehow, with 10 minutes remaining in the third and final period, the U.S. team was up 4-3. Ten minutes is plenty of time for a reversal of fate, however, and the thousands of spectators in the arena were on the edge of their seats. Among them was ABC sportscaster Al Michaels, who was broadcasting the game live, and, as the clock wound down on an improbable and incredible U.S. victory, uttered one of the most memorable quotes in sports history:
"11 seconds, you've got 10 seconds, the countdown going on right now! Morrow, up to Silk. Five seconds left in the game. Do you believe in miracles? YES!" 
The United States had pulled it off, their David had felled the Soviet Goliath, they had created the Miracle on Ice. In doing so, they united the nation. With Cold War tensions high, Americans wanted a victory, we wanted a morale boost, and we got it in one very symbolic game. In that moment, America needed unity, and sports were there for us. 
Above all else, sports provide hope. With every unknown-small-town-kid-who-becomes- a-star story, hope grows. With every potentially-career-shattering-injury-that-turns-into-the- comeback-of-the-year story, hope grows. And in the aftermath of the bombings of the Twin Towers on September 11, 2001, sports helped hope grow.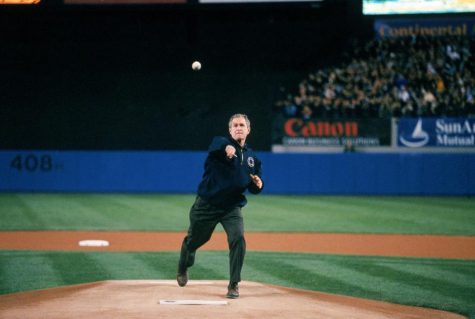 The end of the Major League Baseball season had been postponed due to the bombings, and so the 2001 World Series between the Arizona Diamondbacks and the New York Yankees started later than usual, on October 27, 2001. The first two games were played in Arizona, but on October 30, baseball came home to New York. The same New York that had just been devastated by disaster and disheartened by death.
President George W. Bush knew that his country was still reeling, still mourning, still crushed by the loss of thousands of their fellow citizens. He knew the Series game in New York was going to be an important one, both for New Yorkers and Americans in general. So, in a display of resilience, progress, and hope, he threw out the ceremonial first pitch. 
That first pitch let our president demonstrate how the nation needed to proceed: united, strong, and most of all, hopeful. When America needed hope, sports were there for us.
Sports were there for us in all of those moments of national crisis, to provide an escape, to provide unity, to provide hope. 
Today, America has another crisis on our hands: police kill hundreds of citizens per year, a disproportionate number of whom are Black. Protests have been occurring across America since late May, sparked by the brutal killing of George Floyd, a Black man killed during his arrest by three police officers, one of whom kneeled on his neck for 8 minutes and 46 seconds. The issue of police brutality has taken center stage.
And like the crises of the past, we need sports. But we need sports in a much different way than in the past. 
The word "escape" has two definitions. The first is "a form of temporary distraction from reality or routine." That definition is the way that sports have been an escape in the past. The second, the definition we need right now, is "to break free from confinement or control." The first definition is a mental escape, the second a physical escape. America needs a physical escape from the crisis that we are in right now, and sports will lead us there. 
Because athletes have had enough. They are taking a stand. In these leagues filled with predominantly Black athletes, they are tired of being America's mental escape, and they are ready to lead us to a physical escape. 
When protests began in late May, no athletic leagues were playing or practicing, which meant that the players had endless free time on their hands and a strong conviction to help make a  change. Reigning MVP Milwaukee Buck Giannis Antetokounmpo spoke at a demonstration in Milwaukee. Numerous other NBA and WNBA players took to the streets, and countless athletes from various pro leagues spoke out on social media. 
Physically, the athletes are there. They're in the streets, protesting with the rest of the country. They're using the incredible platform sports gives them to lead, and they're leading the escape.
Because of that platform they have, because so many people watch their games and listen to their words, athletes can reach more people than almost anyone else in the country.
When the NBA and WNBA began play this season, the leagues allowed players to put social justice slogans on the backs of their jerseys, including "vote," "say their names," and "equality." Any time you turn on an NBA game, you see those messages. You see "Breonna Taylor," the name of a Black woman shot and killed by police in her own house while she was asleep, on the back of the WNBA jerseys. You see "Black Lives Matter" on the court of every NBA and WNBA game.
The athletes and their messages can reach the people who would rather mentally escape this crisis, rather deny that it's happening, but when those people turn on the Bucks game, they look. When LeBron posts, they listen. And when the athletes take a stand, they pay attention. Through that powerful outreach, athletes can unify the country.
And all of this? The fact that athletes are speaking up and speaking out? That athletes are leading the way? That athletes are bringing us together again in this time of crisis?
That is cause for great hope.
In the past, we have needed sports to provide an escape, to provide unity, to provide hope, and they have been there for us. Today, we need sports to help us escape this crisis, to bring our country back together, to give us hope that things will end better than they started. And sports are there for us.