South's very own volleyball Dynamic Duo always in sync
They've been playing school volleyball together since seventh grade, playing club volleyball together since ninth grade. They've started all four years of high school volleyball on varsity side-by-side. They committed to play at different Division I colleges within a few months of each other. Their class of '21 senior volleyball photos hang from the Bloomington South gym rafters next to each other, and their names will be next to each other in the Bloomington South athletics history books for a long time to come. If you want to hear Kenadee Coyle's story, you have to hear Bailey DeMier's, and if you want to hear DeMier's, you have to hear Coyle's. 
Now

And the result of their incredibly intertwined, interlaced, interwoven story is a rock solid relationship between the two.
You could pretty well sum up that relationship just by naming any terrible cliche that describes two things that were basically made for each other. Michael Jordan and Scottie Pippen. Peanut butter and jelly. Yin and yang, milk and cookies, Spongebob and Patrick. 
"Two peas in a pod," DeMier said. 
"Thing One and Thing Two," added Coyle.
And just like any good relationship, what makes it work is how different they are, yet how well their differences fit together. Coyle self-describes as "hyper and loud and crazy," a very vocal leader, someone who makes herself heard on the court. DeMier, on the other hand, is much quieter, extremely level-headed, and a more inwardly-competitive player. That's not to say one of those sets of traits is better than the other—just the opposite, in fact.
"They have different characteristics, both which are needed to make a successful team," said South coach Eugene Kim. "They compliment each other very well."
A complementary relationship like that is hard to come by, and something that not a lot of high school athletes ever get with a teammate. It takes a long time to get to the level where you can finish each other's sentences, where you instinctively find the other after a play, where you are a perfect balance for the other. 
But if there's anything that Coyle and DeMier have had together, it's time.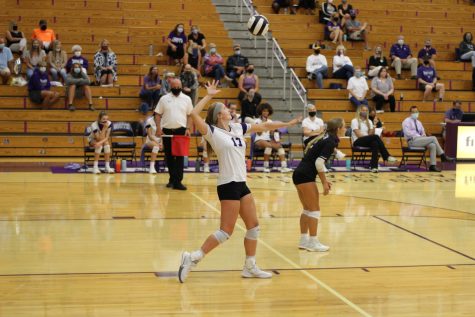 Then
The two first played volleyball together in seventh grade at Jackson Creek Middle School, before they had an inkling of what their futures would hold. Even before that, however, they'd already fallen in love with the game. 
DeMier started playing recreational volleyball through Girls Inc. at age six. At that age, sports are less of a competition and more of a way for parents to get their kids out from underfoot and running around, and DeMier's volleyball team was no different. 
"The kids were so young, the parents and players would cheer if someone made a[n underhand] serve over the net, or even passed the ball straight up," said DeMier's mom Kelly. 
But DeMier stuck with it, moving from the club team at Girls Inc., to Pantera, to Circle City Volleyball in Indianapolis, and from the school team at Jackson Creek to the school team at South. 
Coyle's story follows the same pattern, going from Girls Inc. to Pantera to Jackson Creek to Circle City and South, but started in a different manner.
"Kenadee played softball when she was younger because that was the only thing available where we lived. We moved to Bloomington when she was in fourth grade, and she continued to play softball, but [she] heard a commercial on the radio for Girls Inc. volleyball and decided to try out," Coyle's mom, Amy, said. "Kenadee has loved volleyball since the first practice in fourth grade."
However, love does not equate to talent, as both Coyle and DeMier will admit.
"When I started I was really bad. I was a really unathletic… really tall kid at age ten … really uncoordinated," Coyle said. 
"I was actually very bad. I was always younger than everyone else, so I was constantly playing up," said DeMier.
All it took for love to equate to talent, though, was a few years and a lot of hard work. Both credit their improvement to Circle City. DeMier began playing there in seventh grade, Coyle joined her there their freshman year, and with the extra level of competition that club volleyball brought, they felt their skills skyrocket. 
And the rest is history. 
Both have played on the highest-level teams at Circle City for the past four years, traveling around the country and competing with the best. Both have started on varsity all four years of high school, racking up stat sheets that made colleges take notice. Both have been showered in awards; DeMier was the Herald-Times Volleyball Player of the Year in 2019, a member of the All-Conference team in 2019, and an honorable mention in 2018. Coyle was a member of both the 2018 and 2019 All-Conference teams. 
And both will have their names remembered in South volleyball lore as two of the best players to walk the South court and hit the ball.
"They have accomplished more than any class has in the history of South volleyball… they have helped build an incredible tradition for South volleyball… and they want to pass it on properly," said Kim. 
Next
It'll be time for them to pass the tradition on soon, as both Coyle and DeMier have solid plans for their future. Coyle committed to play collegiate ball at Western Kentucky University in August of 2019, and a couple months later in October, DeMier committed to Murray State University. And after all the years they've been together, it makes sense that they ended up committing to colleges barely two hours from each other in Kentucky, although they both swear it's just a coincidence. Either way, college will be a major adjustment. 
"We know each other so well it's just going to be really awkward to try and trust someone as much as I trust her," said Coyle about DeMier. 
Trust can be built, though, and both girls, their families, and their coaches know that their talent, confidence, and maturity means that their college careers are bright. 
"As a coach, just being able to have a conversation with someone, and I could do that with each of them, makes a difference. It just shows a maturity and a level that will help them going forward in their college careers," said Lori Janssen, their former coach at Circle City. 
Both are entering incredibly accomplished college programs. Both have the potential to make an incredible impact on their teams. Both will probably break some records at their new school. But no matter what happens next, Kenadee Coyle and Bailey DeMier have left a big mark on Bloomington South volleyball, and a bigger mark on each other.