Always a Panther: new English teacher James Kerr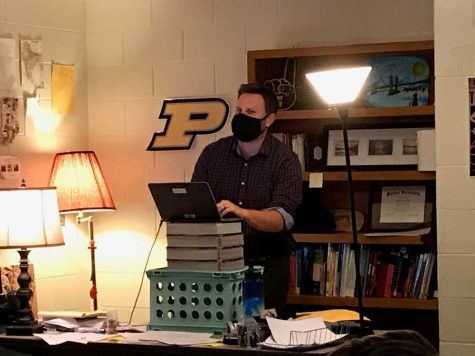 James Kerr, a new teacher in the English department, is one of the many new teachers here at South this year. This story is the first in a series interviewing each.
Are you new to Bloomington?
I'm not new to Bloomington. I went to South. I now teach in the same room I had my first ever class. English 9 Honors. 
Where did you work between being at South as a student and then as a teacher?
 I worked in Atlanta, Chicago, and Louisville. I worked as a bartender in Atlanta before I started teaching. Two years in Atlanta, two years in Chicago, and three years in Louisville although the third year in Louisville was cut off by the pandemic.
Is it difficult this year to adjust to a new environment?
I mean, I think everything is hard this year. The only easy thing about this year is thinking of things to complain about. I don't say that pejoratively, either. I think complaining is the only thing that keeps us sane in a year like this. So yes, it's hard. But, my colleagues, the administration, and the students are excellent, so that has made it much easier. 
What's an interesting fact about you?
An interesting answer I always give to this question: I took a semester off in college to volunteer teach in India and then I traveled around for a while. Saccharine answer: I am married to my high school sweetheart.
Anything else you want South to know about you?
 Let me make the case for mayonnaise. Mayonnaise (and the general emulsion of eggs, fat, and acid, resulting in such delights as bearnaise, hollandaise, choron, and the criminally underrated maltaise) is a culinary mystery. This sauce is infinitely riff-able. You want spicy? You got it. You want sweet and zingy? Oh, it can do it. I disregard all critiques of mayonnaise because… 
(Optimist has taken the journalistic privilege of editing his answer to this last question for the sake of Mr. Kerr's professional reputation).