Lexi Gryszowka Brings Home Title for Miss Indiana Teen USA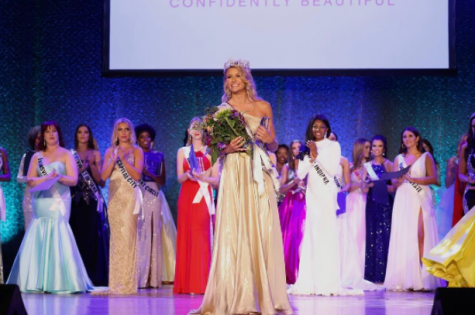 South senior Lexi Gryszowka was awarded the title of Miss Indiana Teen 2021 USA in June. This was Gryszowka's first pageant, and while she was a late entry into the competition and only had 4 weeks to prepare, she still walked out with the crown. 
Gryszowka is not only an outstanding student, but she also is a member of the National Honor Society, Sounds of South, is a competitive dancer for One Step Above, and runs for our South track team. She also volunteers for Habitat for Humanity and the Hoosier Hills food bank in her free time. Gryszowka said that "dancing and Sounds of South helped [her] overcome stage fright and perfect [her] stage presence". "My dance coach Tami was one of my biggest supporters at this time and helped prepare me for the pageant", said Gryzsowka.
During the interview, she talked about what she had to overcome and prepare for in order to be in the right mindset for the pageant. "I had to really work on my confidence during public speaking and not let my nerves get the best of me," said Gryszowka.
During the interview portion of the pageant, the judges can ask any questions they please, so in order to prepare, she talked with Geoff Aiken, the U.S history teacher at Bloomington High School North, who also happens to be her dance instructor's husband. She worked with him in order to feel confident in case she was asked any political questions. Gryszowka put a lot of pressure onto herself while preparing for Miss Indiana Teen. "I had to just reassure myself that this pageant was just for the experience and that if I didn't win I would always have this once and a lifetime experience to hold with me," said Gryszowka.
Gryszowka's life after winning the pageant has been full of traveling, meeting new people like Sherri Hill, a designer known for her formal gowns, and working with professionals. "I've learned so much since receiving my title, and I am truly grateful for these experiences I get to pursue," said Gryszowka. "Constantly being on the go, and having to protect my image can be stressful and exhausting at times, but I wouldn't give it up for the world."
When it was time to announce the official Miss Indiana Teen USA, it came down to Bloomington South's Lexi Gryszowka and Franklin Central's Kinsley Shoemaker. Finally, when Gryszowka was announced the new titleholder of Miss Indiana Teen USA, she explained what was running through her mind when the crown was being placed on her head. "I was honestly in complete shock, it didn't feel real to me for a while, and I still have trouble believing that I actually won," said Gryszowka.
Gryszowka will go on to compete in the Miss Teen USA pageant in Oklahoma in November. Her goal is to place in the top 15 of entrants  and try to enjoy this experience to the fullest. "Competing will be an experience that I will never forget, and will hold everything I have learned with me for a lifetime" Gryzsowka explained.