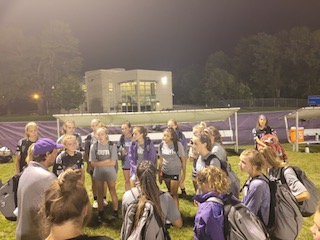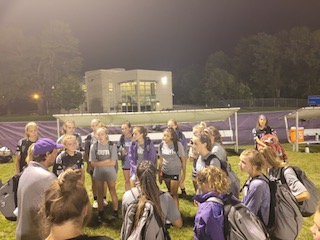 It's been a wild ride of a season South's girls varsity soccer team, who are ranked sixth nationally. The team's Evansville North game featured a record-number of yellow handed out to players. Even Coach David Prall received two of the penalty cards and was removed from the Sept. 13 night game with Franklin after two yellow cards. 
Senior and team captain Melea Miller, a leading scorer on the team, stepped into the void. "I feel like all the seniors felt like we had to step up. It was hard not having him there." 
Miller also spoke about the pressure of being undefeated. "It's like we have a target on our backs. People want to beat us because we haven't been beaten yet." 
Story continues below advertisement
Junior Nora Doyle, a center midfielder who has been a key player for the Panthers this year, said Coach Prall has instructed the girls to play their own style of soccer.
"We're really good in the air and moving the ball around a lot," she said.  "It's really big and important to come out early and win early."
In practice this week, the Panthers are working on sustaining their best level of play throughout all 90 minutes. 
"We can definitely beat North," Miller said the day before the game. "It's a mental game because a lot of people are there. We can do it. We need to work hard both halves of the game." 
South's varsity team did beat North 4-0. JV won 2-0. 
The next game is Sept. 20 at Columbus North.