Rockin' out with Rickerby
South has its fair share of music fans — you'd be hard-pressed to find a student walking the halls without their Airpods, and with the advent of streaming, music is at our fingertips in seconds. But the students of BHSS aren't the only ones in the building with strong opinions on music.
Born in Liverpool, raised in Manchester, and living in America since 1988, South English teacher Ian Rickerby has a long history with music. And, despite an attempt at making a band in middle school that never really took off, music has been a big part of Rickerby's life since he was little. "I've been into music forever. The first person to get me into music was really my sister… three or four artists that she really liked became very influential to me," said Rickerby.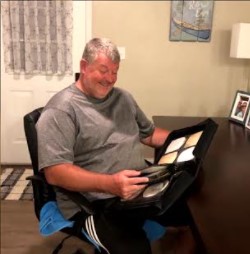 Rickerby cited English bands like The Who, Kate Bush, and David Bowie as some of the defining musical influences of his childhood. As someone who grew up in England, Rickerby felt that music was a major part of his social scene as a child. "Music's big for English kids — the top of the charts, listening to the latest songs, it's important for kids," said Rickerby. And still is — the UK top 40 charts are a pop culture mainstay for Brits even today. 
Rickerby still holds on to his old CDs, even as music fans move more and more to streaming services. "Music consumption is so different now… I remember when the first compact discs came out, people were getting rid of their LP's left and right," said Rickerby. 
Rickerby was an early digital-music listener when music started moving online. "Around 2000, when everyone was suddenly discovering the internet, I was a Napster user," said Rickerby. Napster, founded in 1999, was one of the first digital music-sharing services. It was eventually acquired by another company after legality issues arose with pirated music. "Most of us who lived through music in the turn of the millennium probably pirated some songs," admits Rickerby. "There were all these stories about [kids] getting bills from the FBI, crazy stuff like that. For a while I was afraid!"
These days, Rickerby buys his music on iTunes. As for new music, the local student radio is his main source. "When I was younger I read Rolling Stone cover-to-cover, but now I'm missing stuff, I'm sure… I'm not a huge fan of what I'd call today's music," said Rickerby. "Right now, if I can find a new artist [once] a year, I feel like I'm doing pretty well."
Rickerby would describe his music taste overall as eclectic — that is, pretty much everything except freeform jazz and country, the genre of choice for his wife. "Me and her don't really have the same music taste. She likes a lot of Kenny Chesney, stuff like that," said Rickerby. "I buy her tickets to see him, though!"
The couple has some overlap, however — Canadian singer-songwriter Sarah Harmer's aptly named "Wedding Song" was played at their wedding. "Nobody else liked [the song] but us! My mother complained about it," said Rickerby. 
The songs on Rickerby's playlist are a small selection of a diverse music taste — lifetime favorites like Kate Bush, Counting Crows, and the Smiths, as well as some recent discoveries like Snail Mail and Jason Isbell. 
Listen now on the Optimist's Spotify!