Student Spotlight: Dahlia Ritter and the Snail Mail Revolution
How long has it been since you hand-wrote a letter for a friend? How about a letter for 15 friends in more than five different states? 
For South senior Dahlia Ritter, it's a daily thing. Somewhere between an art and a hobby, Ritter's favorite pastime consists of crafting beautiful, personalized letters that she sends to friends she makes around the country.
"Penpalling is really just where you find someone you want to write letters to, and then write back and forth." Ritter says. It can be that simple- that's how she first got into this hobby. 
"I've always written letters to my grandma, and one of my friends moved to Texas, so we've been writing letters to each other for the past four years that she's been gone. And then I kept seeing these videos on Tiktok, and I thought, 'I want to expand on that.'"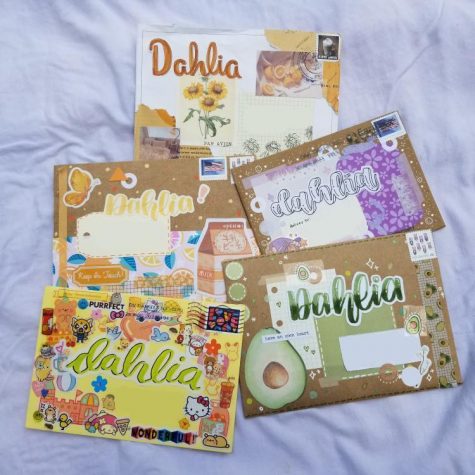 A community of pen pal-ers on social media sites like Tiktok and Instagram have taken the simple idea of writing letters and run with it. These videos Ritter mentions are charming and document the process of making intricately decorated letters. Her Instagram account, @yourlocalpenpal, where she posts designs and communicates with other penpals, is the same: relaxing, beautiful, and detailed. 
"You really just need paper and an envelope and stamps, I guess, but I've grown my collection a lot," Ritter says of the creative process. "I use graph paper, and I think using pretty stationary and decorative things really inspires me when I'm making them. I use brown envelopes, washi tape (decorative paper tape) and stickers, and random scrap paper I have lying around. I even have this old, torn up copy of the Great Gatsby, so I use that for collaging." 
Her Instagram features these highly unique envelopes with personalized color schemes, designs and decorations, along with the name of whichever penpal she's writing to. And that's not even the main part of the routine.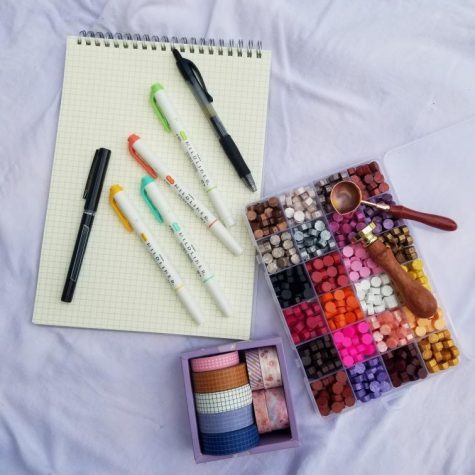 "I feel like decorating isn't as important as the actual letter," Ritter admits. "I decorate everything in the letter along with the outside envelope. I usually include the letter, a Q&A, a playlist with song suggestions, and then I have little extras that I have or make- stickers, tea, bookmarks, stuff like that. That's where most of the effort goes in. I decorate those just as much as the outside of the envelopes."
If it's sounding like fun to receive one of these letters, which take Ritter three-four hours, you'd better apply first. The majority of people who participate in penpalling use applications linked through Google forms on their social media accounts. "I've spent a lot of time on these and put a lot of effort into them, so I want to be sure I get back what I give," Ritter says. The application asks your age, name and Instagram handle, but also what you'll be including in your own letter, and for details about your other hobbies and interests. Ritter has made genuine friendships through her work on these letters- one penpal of hers became a fast friend with whom she texts daily. These connections persevere over the miles, through both postage and text messages.
The sudden interest in handwritten letters grew in part out of worries about the United States Postal Service shutting down. In 2019 and 2020, due to an overload of online shopping orders during the pandemic and large-scale restructuring from the Trump administration-appointed Postmaster General DeJoy, the postal service experienced delays and missed orders. There was worry of permanent damage to the efficiency of the postage system in the United States. Ritter hopes that the community can grow and begin to show the world that real-world mail is needed now more than ever.
"Snail mail, to me, is more important than making connections online through text messages or things like that. You have to wait a couple weeks to get a response. It's more special to me." Ritter and the penpalling community dub it a "Snail Mail Revolution." 
The world is changing with technology, and even things traditionally seen as entirely offline, like posting letters, can grow and change with the times. Ritter and her friends are redefining what it means to have penpals. Viva la revolution!