Sounds of South's Carousel: a review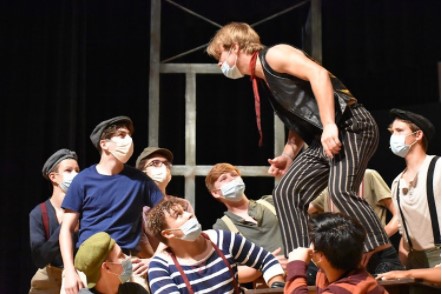 This past Saturday, Sounds of South finished their performances of "Carousel". Rodger and Hammerstein's play follows the love story of Billy Bigelow, a charismatic carousel barker, and an employee from a nearby mill, Julie Jordan. Both become unemployed after getting married, causing struggles in their relationship.
Sounds of South has been working tirelessly for this event- preparations started back in June with the current cast, though previous cast members have been working on it since summer 2020. They were planning on performing last year but it was delayed due to COVID. This meant recasting for their previous, graduated members. The final total for the cast was 51 people, many of these roles being double-casted. Since the start of school, the group has been practicing every Monday and Wednesday from 5:45-9 pm along with their in-school preparations.
I went to see their last show, Saturday, October 30.  It definitely exceeded my expectations. They did such a wonderful job portraying this sorrowful story. And it was a surprise to me that Sounds of South did so while wearing masks! The costumes fit the story well and were all unique. Their lighting and sound were great too, there weren't any stale moments. I also recognized their use of non-South students in the cast. About 10 of the cast members were younger kids and some were cast members' siblings. They were adorable and seemed to follow directions well. The cast members all looked to be comfortable with each other. To my understanding, they are all close friends even outside of practice, and that definitely made a difference on stage. Before these showings, I saw small segments of "Carousel" (they practiced during my lunch almost every day in August and September), and the choreography and songs were definitely sharpened and came together beautifully. It was also a 2 hour and 30-minute show but went by quickly. This group did a delightful job and I cannot wait to see more from them.