Panther football comes to an end
November 12th, South Football played the New Albany High School Bulldogs in the IHSAA regional championship, losing 33-14. 
The team was without starting quarterback Zachary David and starting running back Che Hogue, two athletes who made large contributions to South's win against Bloomington North in sectionals the previous week. 
"We had to work even harder at practice the week heading into sectionals, since we knew we wouldn't have Zach and Che," said sophomore receiver Lucas Waldon.
Luckily two promising sophomores stepped up. South's Jarrin Alley was able to fill in David's spot successfully for the Panthers and Gavin Adams played starting running back. Alley had to play unexpectedly in the sectional championship the week prior, so he had a taste for what it would be like to play varsity. 
"I didn't feel much pressure on me," said Alley. "I trusted my teammates to be there for me." 
Adams, who had never played on varsity prior, had big shoes to fill playing in place of Hogue. "I was more excited to play, not so much nervous," he said.
Running back coach Justin Byers was very happy with Adams' performance on Friday especially considering the amount of preparation Adams got.
"Gavin did a great job preparing for the game on Friday. He's hard working and hard-nosed, he ran over 100 yards during the game." he said. "Gavin's really good, we expect good things from him in the future."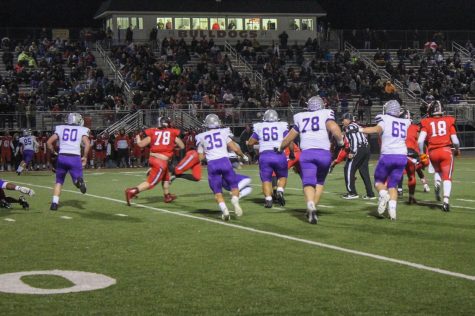 The game started out strong for the Panthers in New Albany. Even in the freezing rain, the Panthers managed to outrush the Bulldogs in the first half of the game and gained a total of 107 yards. At halftime the score was 14-14.  In the second half of the game, however, the Panthers barely got the ball in their hands, gaining only 38 yards the entire time. 
A return by Waldon, as well as an interception by senior Murry Ross-Harman, gave the Panthers hope to pull out a win but they were ultimately outplayed by the bulldogs.  In a final corner full of emotions, the bulldogs scored multiple times on the Panthers, giving them their first IHSAA regional title. 
"We've got to give credit to New Albany- they played hard and had good running backs. At the end of the day we didn't have enough in the tank to overcome them in the second half." Byers said.
The Bulldogs will move on to play Cathedral, the number one team, in semi-state on Friday, November 19th.