Caramel Brulee is here to slay
Starbucks seasonal drink review
Starbucks has unveiled its new line of holiday-themed drinks for the 2021 holiday season. The line features a wide range of different flavors, some better than others. With many different options, it can be hard to choose. We tried the drinks and rated them so you don't have to.
Caramel Brulee Latte (Hot)  9/10
The Caramel Brulee Latte was excellent. I got one and now I can't stop going back to Starbucks to get another (seriously, I think I have a problem). It's a beautiful blend of sweet caramel and espresso. It was also topped with whipped cream and caramel brulee bits which were a nice surprise. I'm not too sure how closely holiday-related this drink is, though.
Peppermint Mocha (Cold) 5/10
We made the mistake of getting the Peppermint Mocha cold. This drink was chalky and tasted like watered-down peppermint bark. Despite this, I drank the whole thing because I was really thirsty and it seemed more festive than the Caramel Brulee Latte.
Iced Sugar Cookie Almond Milk Latte 1/10
I appreciated the sprinkles on top, but this drink was awful. The first sip was decently sweet and I liked the flavor at first, but after the first sip, it tasted like milky, watered-down coffee. I had heard this drink was bad, and it proved everyone right.
Toasted White Chocolate Mocha (Hot) 6/10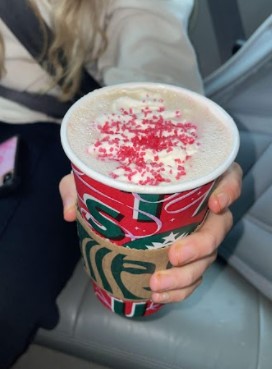 This drink was pretty okay, it came with whipped cream and red sprinkles on top. My only complaint is that the white chocolate tastes like plastic.
My consensus is that you are better off getting the Caramel Brulee Latte, but it wouldn't hurt to try all of these unique holiday drinks.