Rating Girl Scout Cookies from best to worst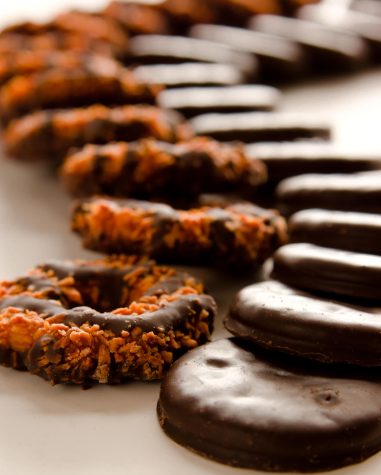 Have you seen the Girl Scout cookie stands around Bloomington recently, and looked at all the delicious cookies sitting on the table in all their chocolate and peanut butter glory, in colorful eye-catching boxes, and couldn't decide which box of cookies to buy? Well I'm here to tell you which box of Girl Scout cookies are the best ones to spend your $5 on, by March 13th. 
     Overall, the Girl Scouts of the USA this year sell eight varieties: Thin Mints, Samoas, Tagalongs, Trefoils, Do-Si-Dos, Lemon-Ups, Adventurfuls, Toffee-Tastic. 
Samoas:

The best Girl Scout cookie in mine and many other people's opinion is Samoas. Samoas are soft crunchy cookies with caramel, coconut shavings, and chocolate drizzled on top. These cookies are some of the best because they are bigger than most of the other Girl Scout Cookies, they don't crumble apart when eating them, and you can eat them at any time of the day. 
Thin Mints:

Thin Mints are a nice chocolate wafer cookie dipped in a minty chocolate coating. Even though they are loved by so many people due to their addictive minty chocolate taste, they aren't the top best. Even though they aren't the best, this box of cookies has a lot more cookies in each box than most boxes and so you get more bang for your buck. Also, many people like to enjoy their unique flavor and texture when frozen in the freezer, which seems to lead to more people buying and enjoying these cookies more than cookies such as Lemon-Ups or Trefoils.
Tagalongs:

Tagalongs are like Thin Mints but with peanut butter instead of mint. It has a crispy cookie with peanut butter dipped in rich chocolate- overall it tastes like a Reese's peanut butter cup. Also, this cookie is super soft and practically melts in your mouth unlike some of the other cookies that are found to be more dry and slightly hard.
Lemon-Ups:

If you love lemon flavored things then Lemon-Ups might be higher up on this list for you. Lemon-Ups are crispy shortbread lemon cookies with lemon flavor and zest; they are kind of similar cookies to the past lemon flavored cookie, Lemonades, but without the lemon flavored icing on top.
Do-Si-Dos:

Oatmeal cookies are loved by many people. But imagine two oatmeal cookies sandwiched with peanut butter in between the cookies! That is what the Do-Si-Dos cookie is. This cookie overall reminds people of oatmeal mixed with peanut butter. South junior Courtlyn Bales-Hall believes  "Do-Si-Dos are the best because of their deliciousness and also the large quantity in each box." 
Adventurfuls: 

The Adventurfuls is a new flavor hitting the Girl Scout cookie stands this year. They are brownie flavored cookies with caramel flavored creme and sea-salt, to mimic a sea-salt caramel brownie. Sadly, even though this cookie is new and is supposed to mimic a delicious brownie, many find it to be dry and not have much of a caramel flavor to the cookie, like it is stated to have.
Toffee-Tastic: 

Toffee-Tastics are one of the only gluten free cookies Girl Scouts have to offer, making them great cookies for people who want to eat a yummy Girl Scout cookie but face gluten allergies. Overall, Toffee-Tastics are buttery, surgery sweet shortbread cookies with tiny toffee pieces in them. Some decide not to get this cookie, though, due to it not being as flavorful as Thin Mints or Samoas, though it does make a good dunking cookie for dunking in milk or coffee. 
Trefoils:

Trefoils are Girl Scout's more simple cookies they sell, with it just being a basic shortbread cookie with the Girl Scout design shown on the top. This cookie isn't loved by everyone, though some may buy it to dunk in milk or other drinks.
        All-around, it is good to buy any box of girl scout cookies. Profits from Girl Scout cookies help girls in troops go on trips, day-camps, and open opportunities for them to have volunteering opportunities; as well as keeping the programs in Girl Scouts strong and available. Also coming from a Girl Scout, Bales-Hall, who has really enjoyed her time in Girl Scouts says "selling Girl Scout cookies has made a very positive impact on my life and I would not have many of the skills (entrepreneurial and social networking skills) that I value, or even be the person I am without them."
It isn't just Bales-Hall who is gaining these life skills, it's other girls all over America as well, and that is why buying any box of Girl Scout cookies is a great thing to do.