Shannon Wenning to Visit 25 Zoos With Awarded Lilly Grant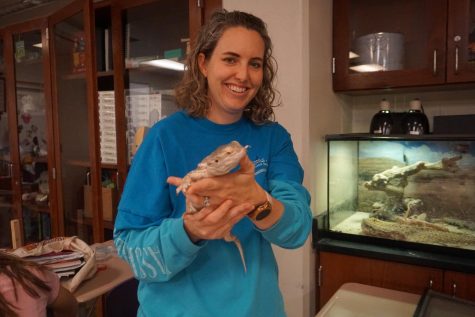 Shannon Wenning, a science teacher at Bloomington High School South, had a long-time dream of working in a zoo, and with the announcement of the 35th annual Lilly Endowment grants, she can now relive that dream. Wenning was awarded the grant "Experiencing Endangered Animals and Reliving My Dreams, One Zoo at a Time – rekindle a youthful dream of working in a zoo by visiting 25 different menageries around the United States" 
The inspiration for the grant was Wenning's deep rooted love of animals which goes back to childhood. "I was actually pre-vet for a very long time. I thought I was going to be a vet since I was a little kid," she said. "I was just always really obsessed with animals." Wenning used to intern in zoos and hoped to work in one, but unexpectedly she turned her focus to teaching instead. "I was specifically working in marine mammals, and I really enjoyed it, but I knew it would require me to live a lot farther away from family," she said. 
"While doing an internship I was doing a lot with the education part of it and I really enjoyed it." After her experience in the education portions of her internships, Wenning decided that she enjoyed teaching enough to pursue it and be able to stay closer to home.
Wenning's love for animals still shines through in her teaching, evident by the bearded dragon, Norbert, who resides within her classroom. She works in examples from her experiences in the veterinary and zookeeping fields in her teaching on a daily basis, providing informative and fun examples for her students. Wenning will teach zoology and genetics next school year, two upper-level science electives that focus on animals and their genetic composition. She hopes that on top of rekindling her dreams, her grant will allow her to teach these courses to the best of her abilities.