Outdoor Recreational Places that are a Must to Check Out
      The flowers are in bloom, the weather is starting to warm up, and the birds are chirping.  It's the perfect time now to go outside and enjoy all the marvelous sights of nature that Monroe County has to offer. To help with trying to figure out where to spend your time outside on these lovely spring days we have created a list of what you should check out.
Charles C. Deam Wilderness (Hoosier National Forest): 
         Charles C. Deam Wilderness Forest is located near the south-eastern side of Monroe County, covering 12,472 acres of land to explore. The Forest offers a variety of things to do such as hiking or backpacking over 36 miles worth of trails, horseback riding, camping next to the lake, climbing the fire tower, and nature viewing/bird watching. The forest makes a great place to explore for a few hours or even for a few days. The forest is also equipped with trails that fit all different skill levels of hikers, ranging from easy to difficult.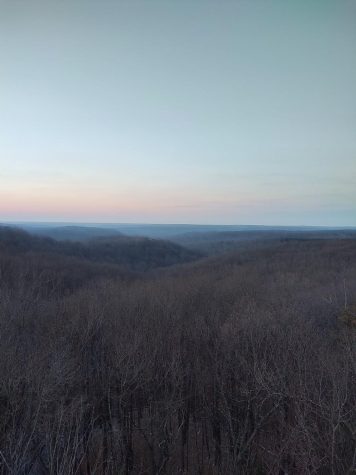 Even though climbing the massive fire tower is something you must check out and do, I would also suggest hiking many of their trails. Almost every trail there is different, with a few leading down to parts of Lake Monroe, one leading to a cemetery where people who lived on the land years ago were buried, and some trails that take you deep through the forest.
Bean Blossom Bottoms Sycamore Land Trust:
           Bean Blossom Bottoms is very different from most of the land we see around Monroe County like the lake, the city, and farm land; instead it is all wetlands and is filled with many species of animals and plants. What makes Bean Blossom Bottoms a really interesting place to visit is the fact that you can actually walk through the wetlands without getting extremely messy, due to Sycamore Land Trust building a raised boardwalk throughout it. Also due to the boardwalk being built it makes it wheelchair accessible.
          Bean Blossom Bottoms is also a nice short hike and allows for many to see cool Indiana bats, Kirtland snakes and a handful of different threatened species living in Indiana. The land trust also is designated as an Important Bird Area by the National Audubon Society, and allows for many bird watchers/enthusiasts to come and witness the unique and local birds that live in the area. 
Morgan Monroe State Forest:
          Morgan Monroe State Forest is located on the northern side of Monroe County and the southern side of Morgan County Indiana. The State Forest offers a variety of things such as many hiking trails, a paved biking path that goes through the forest, two ponds for fishing, a campground, and a fire tower. 
          I suggest you check out one of their best trails, Mason Ridge trail that is almost three miles long, making it the perfect hike for anyone since it's pretty moderate compared to some of their other trails. Mason Ridge is a nice calm hiking trail that has three access points, and half way through the trail goes through a beautiful cliff edge making it feel like you are kind of walking under the ground but still can see the rest of the outside.
        Calling all people who love to play on a playground or even waterfall enthusiasts! Cascades Park is the perfect place to check out. Cascades Park is located on the northern side of Bloomington and by Bloomington High School North. The park is tucked away in a valley with a cute creek running through it that many kids love to play in when warmer weather arrives. The park also has a variety of things to check out and do such as play at the playground that has two enormous two story slides, hike to the Cascades Waterfall, play volleyball, grill, or even bike ride along their new pathed road. Along with all the fun Cascades park has to offer there
 is also the golf course located up the 
hill from it, along with Cascades Skatepark which is connected to Cascades Park through a hiking trail. 
Leonard Springs:
         If you love caves, Leonard Springs is a neat place to check out right outside of Bloomington. Leonard Springs is a nature park in Monroe County that consists of 95.5 acres of land and once used to be an area the city would receive water from due to there being a lake once there. Now that the lake no longer exists, Bloomington's Park and Recreation has built two trails through the land that are less than two miles each and allow you to see the two caves, some tiny waterfalls, Shirley Springs, and the lake once used to be there. One thing to keep in mind, with hiking around Leonard Springs is that the terrain is very uneven and can get extremely muddy so wear comfortable and durable shoes.
         Cedar Bluffs is located on the southern side of Monroe County and consists of a .7 mile long trail to hike with Clear Creek running through the nature preserve. Cedar Bluffs is the perfect place to go on a short hike, to take your dog on a walk, or go canoeing/kayaking/tubing in the creek. Though keep in mind that the trail does consist of scaling some of the bluffs if you go up on a certain side of the trail, so make sure to have good shoes with good traction that can get wet and muddy. 
        Also some cool sights to see while at Cedar Bluffs are all the wildflowers they have during the middle of spring, all the cedar trees at the top of the bluffs that make the perfect spot to hammock. Additionally, at the top of the bluffs, the limestone rocks at the top have cool holes and shapes due to rain and erosion.
Amy Weingartner Branigin Peninsula: 
          Are you into hammocking, hiking and even canoeing? If so, Amy Weingartner Branigin Peninsula is a great place to check out on a nice sunny day. The peninsula consists of 48 acres and a 2.2 mile long trail. Along the trail you are surrounded by the lake making it a wonderful sight, especially if you set up a hammock in any of the trees that line along the trail. Also, if you aren't down for a bit of a hike, you can canoe or kayak from other locations of Lake Monroe to the peninsula. 
        Amy Weingartner Branigin Peninsula is also designated as an important bird area by the National Audubon Society, just like Bean Blossom Bottoms, and has many cool birds such as the red-shouldered hawk, broad-winged hawk, and owls. Also you may see some cool wildflowers along the trail and next to the parking area, as well as cute box-turtles.