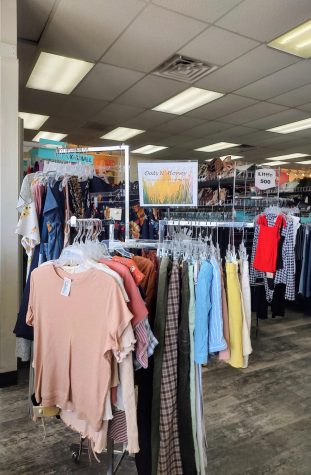 Any time of the year is a good time to try out your hand at thrifting. Thrifting is a great way to not take part in fast-fashion and to buy second-hand clothes at a much cheaper price than buying new clothes at stores like H&M or Target. If you are a person who doesn't thrift often and doesn't know where to shop to find great clothes then we are here to help. 
Plato's Closet
Plato's Closet is next to the College Mall Koger and is one of the best thrift stores to shop at and buy trendy and cheap second-hand clothes. They have an assortment of clothes that suit anybody and also have shoes and accessories. Keep in mind that they do not accept and sell children's items. 
       A cool thing Bloomington's Plato's Closet does is sort some of their clothes into today's latest fashion trends. For example, they have sections named cottage core, dark academia, and loungewear for anyone looking to shop a certain style. 
        Along with the cool fact that they have clothes for anyone and in different styles, many people, one being Kya Seibert, a junior at South, loves their "amazing rewards program." Their rewards program allows you to bring in clothes and receive money or points back allowing you to get other items there for a discounted price. Due to this they are always adding new clothes to the racks. Lastly, on top of all of that, Seibert commented,  "the staff is so friendly and [they] always have great clothes." 
Story continues below advertisement
2. The Antique Mall 
        The Antique Mall is near downtown Bloomington and is a huge store that is like walking into a treasure chest full of unique antique items. If you want to find clothes from any period of time or just want to come across some cool secondhand clothes you should wander down to the basement area of the building. Their clothes are on the pricier side though most are in good quality and are all sectioned throughout the basement of the building. They also have cool accessories that possibly pair super well with some of the clothes you may find.
         Also since the Antique Mall is not shopped as much as other stores like Goodwill there are really cool finds you can come by there. Chandler Deppert, a senior at South, finds that the Antique Mall "is pretty good and more people should check out any of the antique stores in Bloomington because they are not shopped as much."
3. Goodwill
         Many South students have donated clothes to Goodwill before but have you gone into one of the two Goodwill stores in Bloomington? If not you should check them out, especially the Goodwill located off of College Mall Road. 
         Goodwill has many clothes from infant clothes to adults, as well as shoes, books, toys, and appliances. The College Mall location has a wide selection and is the one most donated to, ensuring the assortment of items changes all the time. 
        "My favorite thrift store would be Goodwill because of the accessibility from where they're located in relation to me" said Asa Pittman, a sophomore who enjoys thrifting at Goodwill. Pittman highly recommends Goodwill, but also "any thrift store, because finding clothes you like is a dice roll…and the clothes at thrift stores are always changing so you can keep coming back." 
4. Opportunity House
          The Opportunity House has been in Bloomington for almost 50 years and is a nonprofit store that is completely run off volunteers. The store offers many items at affordable prices and has stuff from books and toys to clothes that fit babies to adults. They also carry jewelry and kitchen supplies. 
         The best thing besides the items you can buy for really good prices is that the majority of the proceeds from the items you buy goes towards helping families in need and help them with childcare. Also the store has friendly volunteers and are always helping people find things and helping volunteers out.
5. Style Encore 
           Style Encore is located on the west side of Monroe County and offers many clothes, shoes, and accessories, such as purses/bags. They do not offer kids' clothes or men's clothes, but do have many women's clothes that come in all different sizes. Also since this thrift store is one of the only thrift stores located on the west side of town, it can be very accessible for some who may not live near downtown Bloomington or near the mall. On top of that, Style Encore has a really nice staff who is always willing to help you and suggest stuff. Also just like Plato's Closet, they offer a rewards program for their store  or their children's store next door called Once Upon a Child.