Science Olympiad Season Starting Up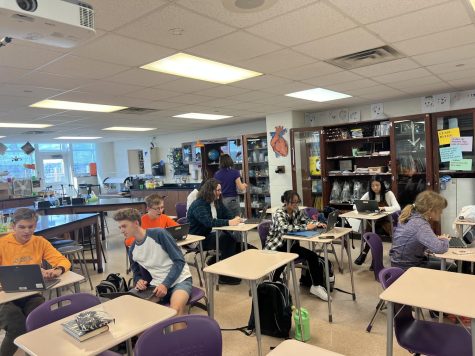 When competition is brought up many people think of sports, but Science Olympiad deals with competition through the world of science. With practices up and running, the season is just getting started. "Science Olympiad is a team of students that get together and study various scientific events and then we go to competitions," said Senior Rebekah Mou, "Depending on the event, you might build a project or you might study and take a test."
There are different types of competitions. The invitationals are practice competitions where members get a chance to compete against other schools. These help members get a feel for their events in a competition setting while also preparing them for the bigger competitions such as regionals and state. "The state of Indiana is divided up into a bunch of different regionals. We go and we compete and the top 5 schools get to go to state," said Mou.
Scoring well at competitions takes a lot of hard work. The Science Olympiad team has four practices a week, and certain events have their designated days of the week for practice. When it's an event's day to practice, members get together to build or study their material. "Practices serve as a discussion time and a way to share resources and a way to bring the team together," said Mou. "We also do a bunch of practicing outside of school where we study on our own or we get together and build things."
The idea of more science and studying might drive some away but for Junior Kyle Davis, the people around him keep him going. "My favorite part of Science Olympiad is the community around the team because it's very strong and well-knit together," said Davis. "A lot of people I have been friends with for a while are a part of the team and I have made a lot of new friends."
Davis also stressed how meeting like-minded people was important to him "[Science Olympiad] allows you to find people whose interests are the same as yours and also people who have the same goals in life at least in terms of pursuing STEM as some sort of career." 
As far as events go, Davis' main event is anatomy and physiology, an event where individuals are tested on their knowledge of different human body systems. Besides anatomy and physiology, he tries many different other events as well. 
Junior Brooke Liao also felt being around people with similar interests is a key part. "My favorite part is getting to have fun while doing the things I'll be doing in my future because I do want to go down a STEM major in college," said Liao. Her long time favorite event, ornithology, got taken away this year. Liao has moved her focus to Wright Stuff, a plane building and flying event, disease detectives, and environmental chemistry. 
Science Olympiad has many opportunities for all passionate about science. Newer member Junior Annie Qi expresses her hopes for the upcoming season  "I think the competitions are really interesting as well as the experience working with other people," said Qi. She is currently interested in rocks and minerals, forestry, and chemistry lab. 
Science Olympiad is for anyone interested in anything science related. If you are looking to indulge in opportunities related to STEM fields, Science Olympiad is a great place to start. The first invitational isn't until December 10th, but the preparation is on and underway. However, it's still not too late to sign up and become a member.