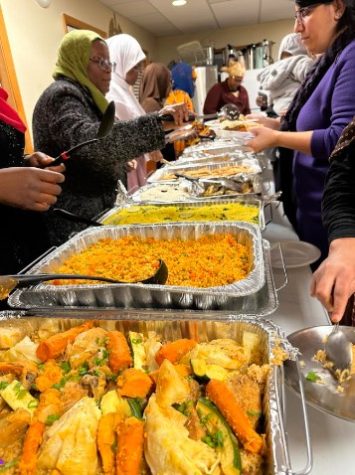 Ramadan, Islam's holy month of fasting, has been observed by Muslims around the world for more than 14 centuries, marking the month that the Qur'an was revealed to the Prophet Muhammad. The specific timing of Ramadan changes every year, as it is based on the lunar Islamic calendar and follows the phases of the moon. During this time, Muslims fast daily from sunrise to sunset, meaning they are not allowed to eat or drink anything during the day.
A typical fasting day for freshman Aseel Alhessi starts at 5:20 a.m. "We eat and then we wait for the call to prayer, and then we go to school." When the sun sets, she waits for the call to prayer, and then they break fast.
Of course, Muslim students still attend school. Especially when attending a school with a majority of students who don't observe Ramadan, sophomore Amira Abdullahi said to "be supportive" of those who do. "Just be aware [of] what you're doing," she said. "You don't have to hide your food, just don't make them feel bad."
Story continues below advertisement
While a common misconception of Ramadan is that everyone is required to fast no matter what, Abdullahi explained that's incorrect. Along with the sick or elderly, prepubescent children, women who are either on their periods, are pregnant, or currently nursing, and anyone traveling is not required to fast.
One thing both Abdullahi and Alhessi highlighted was the sense of community they experience during this time. "It's really connected because you go to the mosque to break your fast together," Abdullahi said. "You meet new people who are also fasting with you and you make new friends."