On Monday, April 17, 2023, freshman Ellie Barada crossed the finish line. The thing is, she broke a school record that no one has been able to surpass in almost a decade.
For over 10 years no one has been able to break the previously held 800- meter record by Alex Warzyniak, who ran a 2:15.61 in 2013.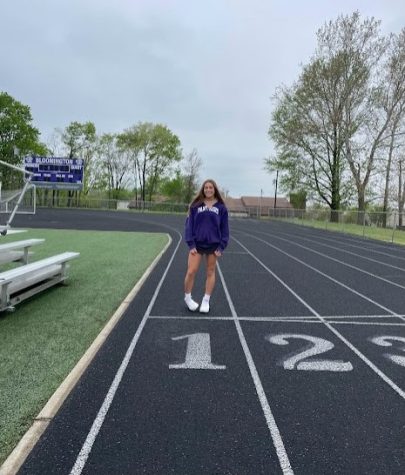 Breaking a school record was never in the plan for last Monday night, as the expected winner was IU commit, Lily Myers, whose job was to break the record.  "All I was supposed to do was motivate her, but in reality, she was motivating me to run faster," said Barada. 
Winning was not on Barada's mind, as she said "I didn't even know my time yet," when Coach Rensink came over to her after the race. "I never expected this to happen."
Story continues below advertisement
Going into the race, all Barada could think about was keeping up with Myers. "All I was thinking was: stay on Lily. That is all you need to do," said Barada. She knew she would at least get a PR because she was running with someone who was going to push her. "I knew I was going to be able to run well because I had someone running with me, not me running alone," she said.
Now, with the 800- meter record of 2:15.33 under her belt,  Barada is ready to push herself further, already having goals for next season. She even wants to break this record before she graduates. "I want to keep working at being faster and pushing myself to be better," said Barada. 
You can watch Barada run this Friday, April 28, at the South track meet.  The meet starts at 6 but the finals will start at 7. Tickets cost $6.