Super Bowl hits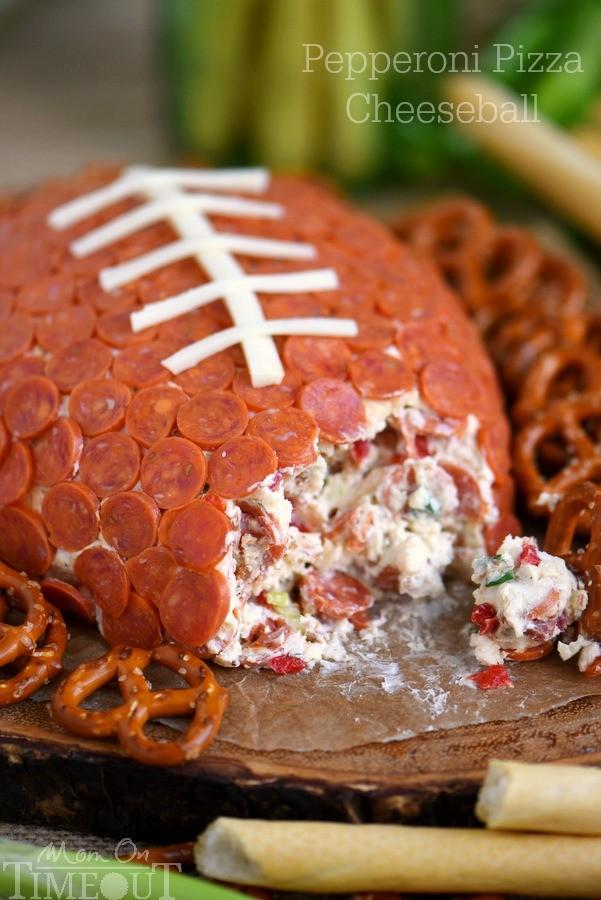 Meghan Smith, Photo Editor
February 4, 2016
It doesn't matter if you're cheering for the Panthers, Broncos or puppies this Sunday, fans and innocent bystanders alike can all agree on one thing: the food. Whether you care about football or not, you can't deny that you love the excess of wings, cheese and all things fried. If you're looking for something to bring to a party, or just want an excuse to eat deliciously terrible food, check out these recipes.
Pepperoni Football Cheeseball
Author: Trish – Mom On Timeout
Serves: 16
Ingredients
16 oz cream cheese, softened

1 tsp Italian seasoning

8 oz finely shredded mozzarella cheese

½ cup shredded Parmesan cheese

2 5 oz bags mini pepperoni slices, divided

3 green onions, thinly sliced

½ cup chopped bacon

1 4 oz jar diced pimientos, drained and patted dry
Instructions
Beat the cream cheese until light and fluffy. Beat in the Italian seasoning, mozzarella cheese, and Parmesan cheese.

Mix in half of the pepperoni slices, green onions, bacon, and pimientos.

Line a small bowl with plastic wrap. Spoon cheese mixture into bowl. Press mixture into bowl so that it takes on the shape of the bowl. Use the ends of the plastic wrap to wrap up the cheeseball firmly. Transfer the wrapped cheese ball to a cutting board and use your hands to shape it into a football.

Refrigerate for at least 2 hours and up to 48 hours.

Remove the cheese ball from the fridge and cover with remaining pepperoni, pressing gently to adhere.

Serve with pretzels, bread sticks, crackers, and veggies.
Slow Cooker Buffalo Chicken Dip
Author: Ali – Gimme Some Oven
Serves: 6-8
Ingredients
1 (8-ounce) block reduced-fat cream cheese, roughly cut into 1-inch cubes

4 ounces crumbled blue cheese*

3 cups diced or shredded cooked chicken

2 cups shredded part-skim mozzarella cheese

1 cup hot sauce** (I recommend Frank's)

1 cup plain Greek yogurt or sour cream

1/2 cup thinly-sliced green onions (about 3 green onions)

1 Tablespoon

ranch seasoning

***

(optional toppings: extra crumbled blue cheese, thinly-sliced green onions, chopped celery, and/or a drizzle of hot sauce)
Instructions
Spray the inside of the bowl of your slow cooker with cooking spray.

 Add all ingredients to the bowl of the slow cooker, and stir until combined.  (You can also stir the ingredients together in a separate bowl, and then transfer that to the bowl of the slow cooker afterwards.)
Cook on high for 1.5 – 2 hours, or until the cheeses are all melted.  (Alternately, you can also cook this on low for 3-4 hours, or until the cheeses are all melted.)  Give the dip a good final stir, then transfer to a serving bowl and garnish with extra blue cheese and green onions if desired.  Serve with chips or your desired dippers.
Ham and Swiss Sliders
Author: Heather Cheney
Serves: 16
Ingredients
16 White Dinner Style Rolls, cut in half

24 slices Honey Ham

16 slices Swiss Cheese

¼ C Mayonnaise

1½ Tbsp Dijon Mustard

8 Tbsp butter, melted

1 tsp onion powder

½ tsp Worcestershire Sauce

1 Tbsp poppy seeds

¼ C brown sugar
Instructions
Preheat oven to 400°

On a rimmed baking sheet place bottom half of dinner rolls and top with 1½ slices of ham and 1 slice of swiss cheese. Spread about 1 tsp of mayonnaise on each top-half of roll and place on top of ham and cheese. You want the rolls to be snug together, kissing just a bit so the sauce can soak up into all of the nooks and crannies.

In a small bowl combine the mustard, melted butter, onion powder, Worcestershire sauce, poppy seeds, and brown sugar. Mix until combined and evenly pour over the assembled rolls. Cover with foil and refrigerate until ready to bake.

Bake covered with foil for 10 minutes, remove the foil and bake for an additional 5-10 minutes or until the tops are browned, and cheese is good and melted.
Funfetti Dessert Nachos
Author: Stef – The Cupcake Project
Ingredients
1 1/2 cups all-purpose flour

1/2 cup milk

1 teaspoon instant yeast

1/4 teaspoon salt

1/2 cup unsalted butter, room temperature

6 ounces rainbow nonpareils
Instructions
In a medium-sized mixing bowl, mix together flour, milk, yeast, and salt until    stiff.

Cut the butter into four pieces and mix them in one piece at a time, beating for a full minute between each addition and an additional three minutes after the last addition. The dough should look smooth and satiny.

Place dough in an oiled bowl that gives it a little room to rise, cover in plastic wrap, and refrigerate for at least two hours or overnight.

When ready to bake, preheat oven to 275 F.

Sprinkle a work surface liberally with rainbow nonpareils as you would flour.

Divide dough in half and place one half on the nonpareils and the other half back in the refrigerator.

Place some more rainbow nonpareils on top of the dough and roll the dough out to 1/8″ thick. Add more rainbow nonpareils to the top of the dough and also lift the dough and add more to the bottom as needed to fill spaces that don't have many or simply to keep the dough from sticking.

Use a pizza wheel or a knife to cut the dough into triangles.

Roll sheets of aluminum foil into logs and place on cookie sheets.

Spray foil with non-stick cooking spray.

Drape dough triangles over foil logs.The dough doesn't expand much in the oven, so the cookies can be very close together.

Repeat with remaining dough.

Bake for 60 minutes or until the cookies have puffed up slightly and are a light brown color (these take a little longer to bake than Arnhem cookies because the cookies aren't directly touching the cookie sheet).

Cool on a cooling rack.