Eighth-Graders Shadow Students at BHSS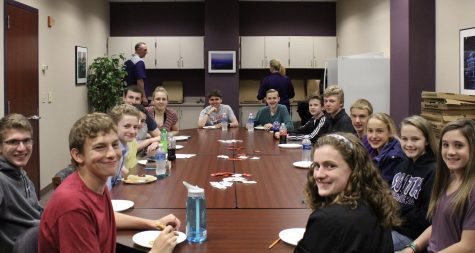 24 eighth grade students left their middle schools to visit Bloomington High School South today.  They accompanied their siblings or volunteers who attend South to all five periods of the day.  20 of these students were from St. Charles, and four were from The Project School.
St. Charles eighth-grader Jenna Hicks shadowed her brother Evan Hicks, a junior, throughout the day.  She recalled that her most memorable experience was in Physics, where students "held hands and generated static electricity that shocked you every time you touched".  Hicks looked forward to attending classes that she "couldn't have done at St. Charles, like Spanish and Jewelry Making".
Teddy Gonyea is another eighth-grader who visited South, coming instead from The Project School.  He noted that there are significant differences in class structure between The Project School and South.  All of the classes at The Project School are "taught by the same home room teacher except for math.
The classes at South feel a lot more unstructured, as everything you learn at The Project School is contained within one class.  There's no responsibility to move around and get to your classes on time there."
Gonyea also commented on the size of the school, claiming that "you could probably fit the entire Project School into the cafeteria at South."  
Both Hicks and Gonyea will be joining the freshmen class at BHSS next year.