Lollapalooza Recap
       Lollapalooza started off as, what most would agree, a major disappointment. The first show I attended was Migos, the most popular rap group from the last couple of years. As such, it was one of the most highly anticipated shows of the festival and drew a huge crowd. The problem, however, was that they showed up forty minutes late. Naturally in a large crowd, in high temperatures, tensions rose dramatically, so by the time the show started, the crowd was somewhat an angry mess. Several fights even broke out. I, luckily, never actually had to fight anyone, but one guy did want to fight me. Thankfully, he decided not to, which was great considering he was easily 100 pounds more than me (and I wanted to enjoy Lolla without any broken bones.) The show itself was incredible. The front half of the crowd essentially turned into a mosh pit and, despite the delay, everyone I talked to agreed that it was one of the best shows there; however, it would have been better if it hadn't been so short.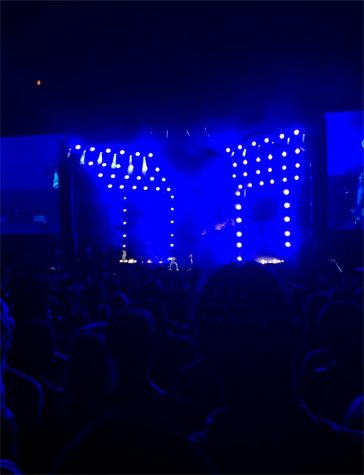 The real disaster happened later that night, with three huge shows getting rained out: Lorde, Lil Uzi Vert, and Muse. I attended Lil Uzi, who, to add insult to injury, was on the smallest stage in the entire venue, despite being one of the most popular artists out right now and having one of the most popular songs of this year: XO TOUR Llif3. Not only was he on the smallest stage, but I was less than 200 feet away from the stage, and I could barely hear him at all. But wait, there's more! Less than 13 minutes minutes into the show, it was cancelled due to weather and, because of the aforementioned issues with the speakers, most of the crowd was unaware that it had been cancelled. This caused everyone in the front to start pushing the whole crowd out of the venue. The stampede that followed the cancellation was potentially hazardous and, having witnessed it personally, I am amazed that no one was seriously injured.
       The rest of the week went fairly well, with each concurrent day steadily improving in smoothness of shows and entry. The following day's headliners and major names all went well enough. The Killers, Chance the Rapper, Arcade Fire, Rae Sremmurd, The XX, Blink-182, DJ Snake, Cage the Elephant, Run the Jewels, and Big Sean among the more prominent names at the festival this year. A surprise show from Chicago native Vic Mensa, one of the most polarizing figures in the current rap scene, broke up some of the monotony of Day 2. Other surprise appearances included Ty Dolla $ign and another appearance from Vic Mensa. The festival ended with shows from Rae Sremmurd, Arcade Fire, and Justice. In conclusion, the shows were fire, the festival was not.