Will Baseball Be Lit?
Coaching a program that has won three of the last four sectional titles and has had two semi-state appearances in the past eight years, you wouldn't think Phil Kluesner would have much to complain about. The one thing his program is missing? Lights.
Not having lights on a baseball field can create a number of disadvantages for a program. According to Kluesner, it prevents night games that could potentially attract more fans and being able to compete against better teams from further away. Another big problem is the disadvantage of not being able to host sectionals or the Conference Indiana Tournament.
Kluesner also believes that "absolutely, this project is way overdue" as a number of other sports, such as football and softball, have also received renovations as of late. A backstop renovation a few years back was the last renovation of the baseball facility.
The light project has been no easy task as the price of $225,000 makes a challenging decision for the MCCSC school board. Calling Bloomington his home, Kluesner believes he can reconnect and negotiate with some lifelong friends/business owners to reduce the price.
When asked about the possibility of lights this spring, J.R Holmes said he "can't confirm we will get them but also can't confirm we won't." Holmes also explained that the school was still looking at money options and they're going to wait until the softball field is finished and go from there.
 Of course not only do staff and coaches have opinions on the light situation but players also have thoughts on the topic too. Sophomore Zach Bellini shared that he thinks "[the team] put in a lot of hard work and had pretty good success, so I think we deserve them."
However, Kluesner isn't settling for just lights, he has his eyes set on having at least a turf infield by 2020. So when can you expect to see lights at the baseball field? Both Holmes and Kluesner hope you'll be able to see a baseball twist to Friday night lights sometime soon.
About the Writer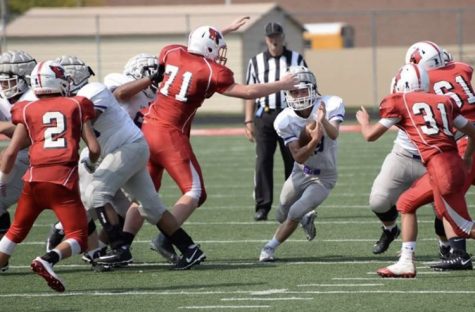 John Law, Editor
Only true athlete on staff. Plans to dominate the Gothic-Optimist softball game.  Holds the Optimist record for most David's Sunflower Seeds unshelled...