Aspen to the rescue
Hang on for a minute...we're trying to find some more stories you might like.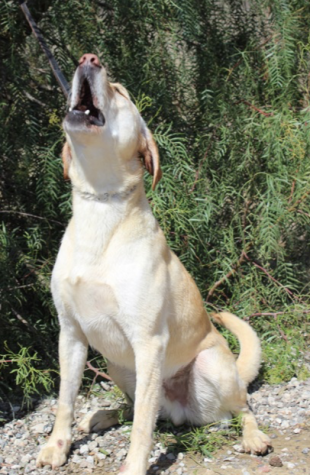 Hurricane Harvey is a tragic event that has left many people without homes and/or loved ones. The National Search Dog Foundation, as well as many other foundations, has contributed greatly to the relief in Texas. One of these search and rescue dogs is Aspen.
Aspen is currently awaiting assignment in Dallas, Texas. He has been a search and rescue dog for almost four years now and has come to be very skilled at his trade. However, he was not always the calm, crisis-ready dog that he is known to be today.
Aspen suffered with anxiety for many years and tried to eat everything in sight as a coping mechanism. One occasion he was found eating water balloons, junior and former owner Meghan May explained. 
Aspen was enrolled in the National Disaster Search Dog Foundation "so he could help people, get rid of his anxiety, and have a better life," May said.
Aspen started his training at age four instead of the usual age two, but this did not hold him back much, as he still managed to finish his certification in nine months (instead of the typical year) .
Aspen then moved to his Texas post with new owner Robert Grant. However, when he arrived, there was already another search and rescue dog named Aspen. In order to avoid the confusion of having two dogs with the same names, the Mays renamed him "Rocky" after the Rocky Mountains, keeping up their trend of mountain-themed dog names.
Aspen, along with other dogs, has helped out with many relief projects in Texas. In May of 2015, he responded to severe flooding in San Marcos, and in December of the same year, Aspen helped with tornado relief in Garland, Texas.
The Mays are used to receiving many emails about Aspen's status in Texas, and although it has been a while since they have last received an email, they know that he is safe. The emails between the National Disaster Search Dog Foundation and the Mays are the only contact the Mays have with Aspen. Aspen will probably never return home and will instead spend his life with his trainer as most search and rescue dogs do.
Aspen truly has come very far. Four years ago, he was an anxious, water-balloon-eating dog. Now, he is off protecting the citizens of Texas.
"We wanted [Aspen] to be happy. Getting into this program and having these opportunities did just that for him," May said.
To learn more about Aspen and his story visit https://searchdogfoundation.org/profile/rocky-robert-grant/
For more information on the National Disaster Search Dog Foundation go to https://searchdogfoundation.org/ and learn how you or your dog can become involved today.