Hype for Habitat window painting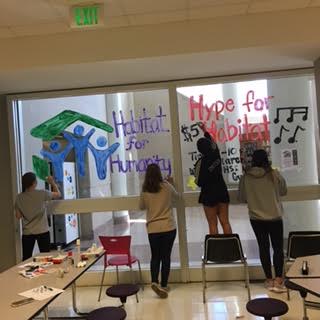 Habitat for Humanity members gathered today to put up flyers and paint the cafeteria windows for Habitat's upcoming event "Hype for Habitat".
"Hype" will take place on March 3 from 7-10 p.m. There will be food from restaurants such as Avers and Mother Bears. There will also be special appearances from performers such as Elm Heights Band, Daniel Deckard, Anna Wrasse and more.
Attendees can also participate in a raffle with a chance to win prizes.
All proceeds from "Hype" will go to Habitat for Humanity, an organization that aims to "build strength, stability and self-reliance through shelter." Tickets go on sale on Tuesday, Feb. 27.
"I'm hyped for Hype for Habitat. I'm excited to see Elm Heights Band because I haven't seen them perform before," said junior Lia Sokol.