Druuling for Juul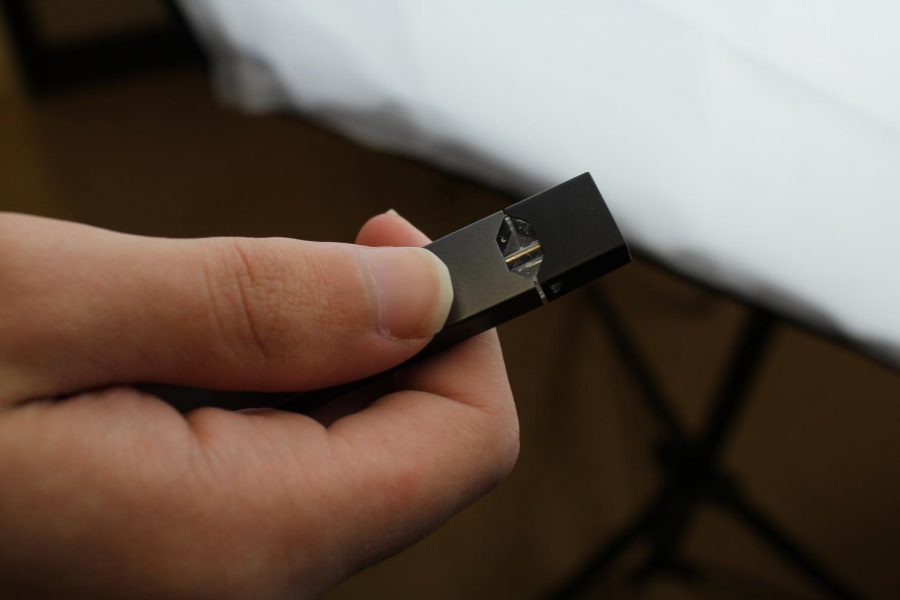 Tommy McEvilly, Staff Writer
November 7, 2018
Juuling. We've all seen it happen. Whether you're minding your business in the school bathroom, walking down Kirkwood at night or trying to enjoy a sunny day at Bryan Park, juuling has become an epidemic that has plagued the youth of the United States.
The Juul is a trendy, little device with a flashdrive-like design that has swept the nation over the past year. While the Juul was initially developed as a device for people looking to kick their smoking habit, the usage of Juul has skyrocketed and has become a huge part of high school culture. Juul claims that their product is "unlike any E-Cigarette or Vape," and they're right – the Juul is incredibly easy to obtain for a large population of underage teenagers and has found its way into the high school setting. Juuling has become less of a substitute for cigarettes as it is a way for high schoolers to get a buzz and have a good time. According to the Public Health Law Center, the Juul comprises more than half of all E-Cig sales in the United States, despite the large number of other E-Cigs in competition and the relatively recent launch of Juul in 2015.
"Everyone has some kind of connection. Either you have a Juul, you know someone who can get you a Juul or you have a friend who is willing to let you shmack their Juul,"  an South senior said when asked about the ease of obtaining a Juul.
These "shmacks" – or puffs – of the Juul may not seem like much. Each Juul pod contains a 5 percent nicotine solution and is intended to last a user about 200 puffs. While that may not seem too extreme out of context, one pod is also roughly equivalent to an entire pack of cigarettes. The chemicals in these flavored pods contain nicotine salts, which when combined with a weak acid allow the consumer to obtain all the nicotine in the puff while providing a more pleasant experience for the user. In reality, this pleasant experience only tricks the user into using more and more of the nicotine product.
"
Either you have a Juul, you know someone who can get you a Juul or you have a friend who is willing to let you shmack their Juul."
The bathrooms of Bloomington South have become a popular spot to "hit the Juul," but crackdowns by the Food and Drug Administration and the security guards at South have led to an increased nervousness among Juul users.
"I get nervous to hit my Juul at school, and I know that there are some people who have gotten caught recently – even a couple of my friends," another student said.
Joe Doyle, an assistant principal at South, spoke of the reforms going on in the school due to the rise of the Juul and the impact it has on the community.
"The punishment for Juuling isn't any different than the punishment for smoking cigarettes. We had severe issues with the vaporizers that didn't contain nicotine, but as the Juul became a similar device, but with nicotine, we went to the one, three, five rule," Doyle said.
"This phenomena is still new, but we know from national statistics that Juuling has become the teen thing. We started educating our staff and parents last spring because just because there's no tobacco in these puffs, it doesn't mean that it is any better for your health."
About the Photographer
Taylor Harmon, Editor
You probably know me as that girl who trips and falls constantly, often in public places. Lover of plants, ice cream, Julie Andrews and Meryl Streep.