The Guitar Man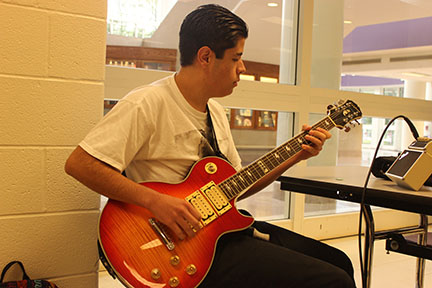 Mallorey Daunhauer, Photographer
September 15, 2016
The halls and classrooms of South are filled with many different noises. Whether it's friends catching up about their day, the buzz of cellphones, or the booming voices of teachers giving lessons, many interesting things can be heard around the school. Normally, live music isn't a typical noise to hear around South, but student Daniel Deckard is setting out to change that.
Deckard, a junior at South, has started to bring his guitar to school and play it during various times of the day. Whether it's in SRT, lunch, or Panther Plus, Deckard enjoys filling his free time with music.
Deckard started playing guitar 7 years ago, and since then, it's been an interest of his. He initially learned to play through lessons, but his knowledge of rock music was spurred by his impeccable ability to play-by-ear. Deckard has built up his playing-by-ear skills through learning the seven other instruments he plays. "I can depict what key a song is just when it comes on the radio…" Deckard said.
Deckard started bringing a small amplifier and his guitar to school last year, and he would play it during Panther Plus when he didn't have much to do. Now, Deckard plays at various times throughout the day. "I want people to recognize me as a guitar player," he said.
Deckard has been told that his music is enjoyed, and he hopes that he will be able to play at various Dance Marathon events this year. His favorite song to play on the guitar is "Rockin' All Over the World."