Local organization gives hope through soccer balls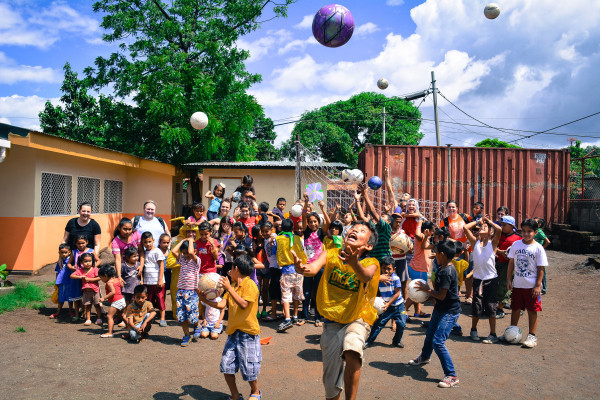 Deep into the mountains of Central America lies the country of Nicaragua. Nicaragua is the poorest country in Central America, with 68 percent of its citizens surviving on just $1 a day. But an organization called Make Your Own Ball Day has set out to bring hope into the lives of the people of Nicaragua.
Make Your Own Ball Day was started in 2012 by Missouri native Mark Spiegel. Now living in Indianapolis, Spiegel has taken his passion for soccer and turned it into a non-profit. Optimist sat down with South Technology Coordinator Nick Hargett, who is a friend of Spiegel's and volunteer for MYOBD, to learn more about the organization.
MYOBD is a company that holds special "Make Your Own Ball Days" at soccer academies around the country. Young players use any materials they can (i.e trash, cardboard, old socks, etc) to make a "soccer ball" in which they play with after making. They then donate one of their own soccer balls which then goes to kids around the world who don't have the privilege of owning their own ball. 
Hargett shared an experience Spiegel had when he found an American kid's soccer ball after he left it behind. When he tried to give it back to the kid, his mom had already bought him a new one. "He (Spiegel) had been down to Nicaragua where 20 kids might have one soccer ball," Hargett said.
Spiegel, after going to Nicaragua, got the idea to build a neighborhood soccer stadium. The stadium cost $18,000 to build, so Hargett and Spiegel brainstormed ideas to raise the money. "He invited 180 people to donate $100 to become a team member and build this field, and then twenty of those people had the chance to go down to build the field," Hargett said.
The group helping to build the field is a non-secular church organization called Hope Road Nicaragua, and Spiegel partnered with them and their resources.
Hargett, who coaches with Spiegel and shares a passion for soccer, got the chance to go to Nicaragua a couple of weeks ago and help build another neighborhood soccer stadium. "While we were there, they built a huge block wall around the facility, we redid the court, and Hope Road was building a boxing gym in the community center," Hargett said. "All of the kids go to school across the street, and then they walk across to the community center."
On the trip, Hargett and his teammates also went to an orphanage, located in a canyon, that was once unreachable to receive supplies. Hope Road then hand built a road so that the orphanage could be accessible. "They (MYOBD) have really good relationships with the communities," Hargett said.
"It was really cool," Hargett said. "The kids are really sweet, really fun, just like kids here. Despite all of the things maybe they don't have, they still have a lot in common. Just because they live in extreme poverty, they still have a lot to give."
In the future, Spiegel has plans to go to Africa and spread MYOBD's work. If you are interested in learning more about Make Your Own Ball Day, check out their website at this link: http://myobd.org/