A vegan-friendly Thanksgiving
For Americans, Thanksgiving is a not only a time for family and friends to gather together and celebrate the season of gratitude, but it is also a time traditionally known for the mass consumption of food. Lots and lots of food. In fact, the average American consumes about 3,000 calories in one Thanksgiving meal, according to News-Medical.net. These meals include a variety of smorgasbords, such as turkey, mashed potatoes, stuffing, pie, etc. While these foods often bring comfort and fond memories to most, they can easily isolate those on vegan, vegetarian, or other restrictive diets. As a recent vegan convert, I've decided to set out on a quest to prepare a delectable, vegan-friendly Thanksgiving meal that rivals its carnivorous and butter-filled adversary.
Recipe #1: Cauliflower "Mashed Potatoes"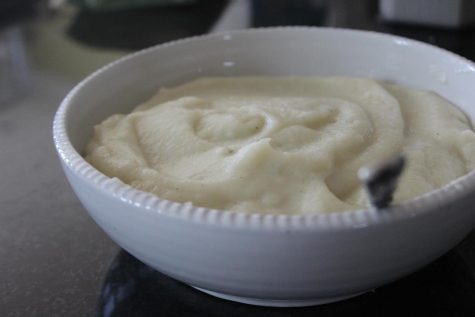 The typical Thanksgiving meal places a heavy emphasis on turkey, but what is meat without its potato sidekick? Mashed potatoes, usually consisting of butter, heavy creams, and other dairy fillers, are most definitely not traditionally vegan-friendly. To substitute for the heaviness of normal mashed potatoes, I decided to go with roasted garlic cauliflower "mashed potatoes." Full recipe here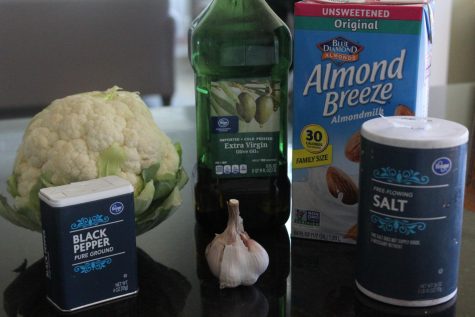 My recipe notes: I used a little less garlic than the original recipe stated because I felt that two whole bulbs of garlic might be a bit overpowering. I also used a regular blender to mix the ingredients rather than a food processer and was happy with the potato-like consistency that it produced.
Review: These were absolutely amazing. Though I expected the lack of butter to make the "potatoes" lose their creamy and rich flavor, I actually enjoyed the cauliflower substitute more than normal mashed potatoes. They had the same texture and consistency of regular mashed potatoes but felt much lighter and healthier. These were a wonderful alternative that I will definitely be making on other occasions. Even my non-vegan family members enjoyed these a lot and suggested that we make them again soon.
Recipe #2: Mac n' Cheese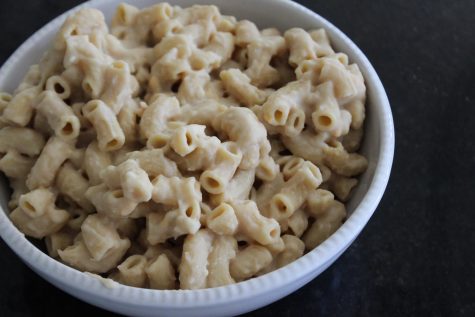 Out of all the foods that I no longer eat, mac n' cheese is one of the things that I miss the most. Something about the creaminess and cheesiness of the dish brings immense comfort to the Thanksgiving table. After searching through what seems like hundreds of vegan mac n' cheese recipes, I landed on this one and decided that it could replicate the wholesomeness of macaroni the best. Full recipe here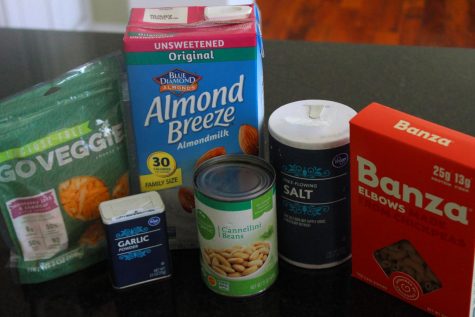 My recipe notes: I went with the variation of the recipe that used dairy-free cheese rather than nutritional yeast and vegan butter. Also, the original recipe suggests that you can use thyme, rosemary, or turmeric to add flavor to the sauce. I used a pinch of thyme in my recipe and was very happy with how it tasted. And because the recipe above is just for the cheese sauce, I purchased chickpea, gluten free macaroni noodles to go with it and just added them after the cheese sauce was finished. The cannellini beans in the sauce and the chickpea noodles provide a good source of protein since turkey was not an option.
Review: Overall, I was pretty happy with the result of this dish. I like the texture that the beans added, and the dairy free cheese created the creaminess that is normally provided by butter. Although, if you're looking for a truly cheesy tasting dish, another vegan macaroni recipe that uses vegan butter, cashews, and more dairy-free cheese might be more desirable. The texture of the sauce and the flavoring were good, but it didn't replicate the cheesy taste I hoped it would. Rather than the memorable mac n' cheese taste I desired, this tasted more like a typical pasta dish.
Recipe #3: Green Beans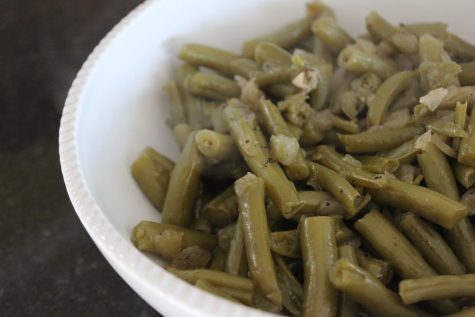 Green beans at my family Thanksgivings typically include bacon or meat juice from the turkey to add flavor, so I opted with making my own, vegetarian friendly green beans. I just stuck with the way my family typically makes them and subtracted the meat additives. Recipe below:
Ingredients:
1 can of chopped green beans
A few spoonfuls of frozen, chopped onions
2 tablespoons olive oil
Salt and pepper to taste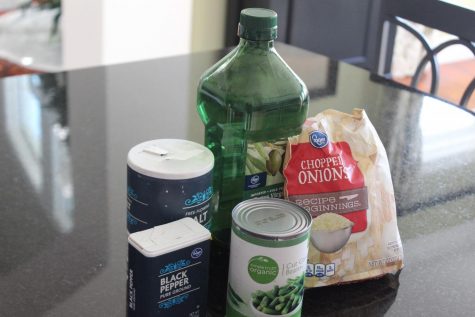 Directions: In a small sauce pan, put oil and onions over heat until onions are thawed. Pour can of green beans into pan with about a cup and a half of water. Let water come to a boil and cover pan slightly with a lid. Let boil for about an hour or until green beans are tender and well cooked.
Review: These green beans were fantastic! I couldn't really tell a difference in them without the added bacon/meat juice. The salt and pepper provided all of the extra flavoring that I needed.
Recipe #4: Dessert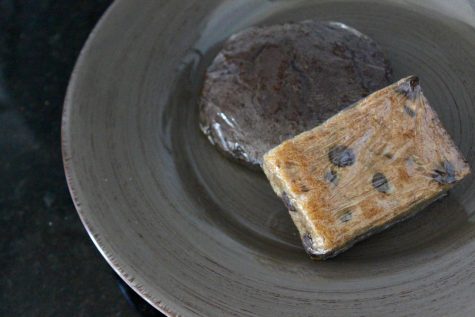 Truthfully, I actually don't have a recipe that I used for dessert. As the only vegan at my family functions, I didn't want to prepare a special vegan dessert and have lots leftover. So, I made a trip to Soma and purchased a vegan peanut butter chocolate bar and a vegan decadence cookie for my dessert options. I was very happy with the way they tasted. I could not tell that they were lacking in non-vegan baking ingredients, and it was very nice to know that local businesses such as Soma are supporting customers on restrictive diets.
Conclusion:
Overall, I was very satisfied with the way that my first attempt at a vegan Thanksgiving meal came out! All of the substitutes I prepared were quick, easy, healthy, and arguably rivaled their typical-Thanksgiving-food counterparts. If anything, I learned that it really is not hard to make food that is diet friendly (and also better for your body) taste just as good as unhealthier alternatives. All it takes is just a little bit of creativity and flexibility to try new things and experiment with different recipes.
Other vegan Thanksgiving recipes worth a try:
Slow Cooker Maple Herb Tofurky
Garlic Herb Roasted Potatoes, Carrots and Green Beans
Butternut Squah Mac and Cheese
Ultra Fudgy Vegan Chocolate Pudding Pie