Can I be Jewish and still love Christmas?
Hang on for a minute...we're trying to find some more stories you might like.
  I'm Jewish. For as long as I can remember, I've spent my Christmases eating Chinese food and watching movies, and yet, I've always dreamed of more.
I've fantasized of a Christmas tree complete with all of the trimmings. Of tinsel and ornaments. Of lights and a star. Of Christmas songs humming in the background. Of everyone singing along. I want to make Christmas cookies and wear ugly sweaters. I so desperately wish to be a part of this magnificent holiday, but I am plagued with feelings of guilt for thinking this way. Is it wrong to love the traditions and customs of another religion? Not only that, but is it wrong to wish to celebrate them?
I like to blame society for my undevoted thoughts, as I like to with most of my problems. I tell myself, "It's not that you love Christmas. You just love the commercialized aspects of it" and, in a way, that's true. I, as a Jewish girl, will probably never fully understand what it means to grow up Christian. To wake up Christmas morning hoping to catch a glimpse of Santa is an aspect of most peoples' childhood that was never a part of mine. No matter where I go, it seems that Christmas cannot escape me. With the arrival of the holidays comes the Christmas sales, the commercials, the Christmas carols and the gifts.  When Hanukkah rolls around, there is a run on potatoes, donuts and candles. There are no carolers, commercials or movies. There aren't even a lot presents (only eight small gifts which I believe is a way to cheat out the Jewish kids).   
I like to fancy myself the  Holiday Armadillo. When the holidays roll around, it's like I'm on steroids. I am suddenly needed in a million places at once, and I don't even mind. All throughout the holiday season, I'm on a Christmas high in which I feel invincible (don't do drugs kids). I have never once been on a Hanukkah high, nor have I ever heard of such a thing.
I truly am faced with an ethical dilemma. Although my family is not extremely religious, I'm still caught at a cultural crossroads. However, I have been hit with a wave of acceptance. I think I'll always be a Christmas-loving-Jew, but perhaps my problems would be solved if I married a nice Christian boy…
Happy Hanukkah.

About the Writer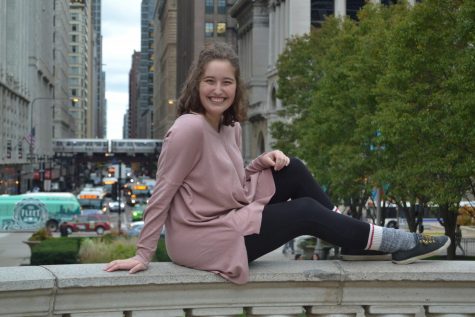 Jen Crystal, Editor
Jen is a senior at South who's enjoying her second year on The Optimist. She spends her time watching movies and avoiding physical activity at all costs....