Inktober among student body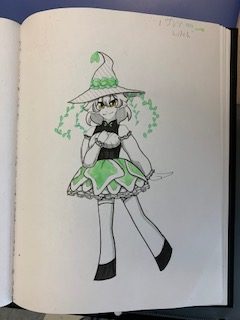 With every new October, there is a new Inktober. For all thirty one days of the month, there is a different prompt for artists to follow and create an ink illustration. Inktober began ten years ago by an artist under the name Mr. Jake Parker, who says on the official website, "I created Inktober in 2009 as a challenge to improve my inking skills and develop positive drawing habits. It has since grown into a worldwide endeavor with thousands of artists taking on the challenge every year." 
In addition, Inktober is defined as a framework meant to practice art, have fun, and be a challenge to improve over the month. It can also be a chance for people to inspire or be inspired by other artists as they all approach Inktober in their own ways. 
The rules are as follows: 
1) Make a drawing in ink (you can do a pencil under-drawing if you want).
2) Post it (there's a note about when to post, rather it's daily or once a week. They emphasize consistency in order to maintain positive habits). 
3) Hashtag it with #inktober and #inktober[year]
4) Repeat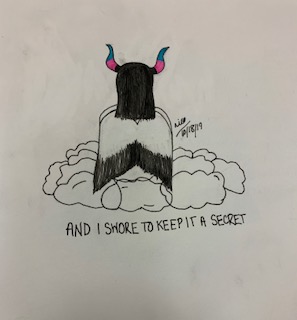 Even with these rules, the team behind Inktober has been flexible and encourages all the artists who participate to do what suits them best, rather they have a medium they're partial to, prefer to follow the prompts in a different order, or don't want to post their work online. Some people may forsake the prompt list entirely, and instead follow a different set of prompts or even make their own. The best part of Inktober is that there is no wrong way to do it, which benefits many artists who are able to carry out their work with full control and creativity. 
Within South's population of artists, some students have been participating in Inktober in their own ways and experimenting with their individual style.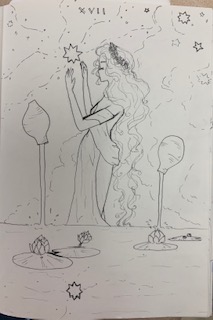 Senior Julia Victor participated in Inktober this year with her piece, Ivy Witch. "I didn't do the official prompt list, instead I used a random one I found online" said Victor.
Freshman Nico Doyle followed one of the official prompts from Inktober, choosing 'misfit' for the 18th. When asked about her inspiration, Doyle explained, "The prompt was misfit and misfit means out of place, so I drew an angel with horns because she was out of place somewhere she was supposed to belong I guess."
Junior Naomi Charlesworth has been drawing nearly everyday of October. She shared two pieces titled 'The Star' and "Titania."
Charlesworth explained,  "I tend to not follow the official Inktober prompt list, and this year I made my own. This specific drawing was based on the tarot card for "The Star," and I wanted to incorporate the typical symbols of the card while still making it my own."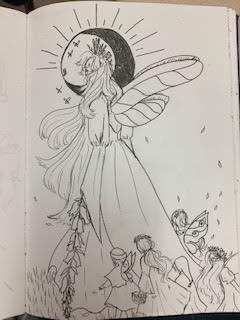 For the Titania prompt, Charlesworth said about it, "I drew this for the Titania prompt because I think it encapsulates her overall character. She's kind of overbearing since she's the queen and she has a lot of power."